I was at Mom 2.0 in Houston this weekend, another amazing blogging conference. If you haven't been to a blogging conference yet, here are my 3 reasons to attend. Going will change your life and your blog, promise!
Reason #1: The People. This is the fun part, where you get to meet really cool bloggers. The ones you read daily about, the ones you want to take home in your suitcase, and the ones you aspire to become.
Then for even more fun, you get to meet brand new faces. The ones you are so happy to know about, ones you can't wait to work with, and the ones you feel like you've known each other for years. And of course I brought along my hot mama sidekick, Allison (we don't go anywhere without each other!) In the photo above: me, Jyl, Laurie, Amy, photo courtesy of Mainline Mom

Reason #2: The Panels: I go to learn from above mentioned bloggers. Panels on writing, passion, pr, marketing, content campaigns, and offline experiences. One of the best panels was about 3 Mormons and the Bloggess! Funny name, fabulous session!  Photo above courtesy of Gabrielle Blair.
Happily, I was speaking on a panel at Mom 2.0. Gwen Bell, Deb Averett and I spoke about your Toolbox for Online Success. What you need to stay organized, build your blog, and manage a home-business. Don't we look so intense as we discuss organizing your emails?! You should have seen us at the beginning of the session when Gwen had us all take a moment to "be in the moment". I loved that zen feeling, closing our laptops, clearing the brain from an information packed weekend.  Photo courtesy of Christy Nelson
Reason #3: The Parties: It's usually at the parties where the best kind of networking happens. You're introducing yourself to the next person in line at the food table, but it might happen to be someone who will change your life. You exchange cards, you get to know each other, and bam, something new and amazing has hatched! Who knows what will come of it. That's how it works. Getting out there, IRL! And… you usually get to dress up, always fun (me in a Mad Men outfit above)!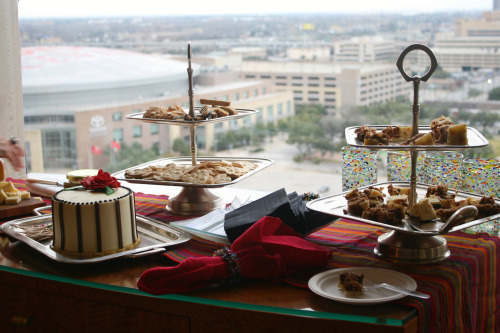 I also hosted a fabulous party up in my suite with an amazing company, Cambria Cove, who sponsored me at Mom 2.0. There was chocolate, cheese, and a gift for everyone to take home. And you gotta love when the people you work with turn out to be like family. Chris from Cambria Cove could have been my sister. What a great business blogging is!
Hopefully you see why it is I keep going to these conferences, to learn, grow, and have a mama's night out! Thanks to Kirtsy and The Tasteful Life for hosting an amazing conference. I was happy to have been in attendance.