This last week I attended the crafty blog conference called SNAP! It's hosted by an amazing team of women, headed up by Tauni of Tauni Tweets! It was a great conference full of crafts, bloggers, and a handmade market of awesome. Here's me with Kirsten of The Crafting Chicks, Aimee and BettiJo of Paging Supermom, and Tresa of Reese Dixon and Foxy Like a Crafter. Just a few of the fun craft bloggers I met in person.
During SNAP! I was a speaker on a panel called From Blog to Book, seeing as I've written a book that closely relates to my blog :) Here I am with fellow panelists Courtney of Pizzazzerie, who's written a fabulous book on Push Up Pops, and Betty of Random House, a senior editor of Potter Craft. It was a fun panel, hopefully we inspired the room to all write a book. It was an amazing experience for me and I hope that what I shared helped others make it happen for them too!
 During SNAP! I also had the chance to go to a crochet party sponsored by Lion Brand Yarn (one of my favs) and Cindy of Skip to My Lou (another one of my favs!) It was all about learning how to crochet, something that we joked about only being for Grannies (like me and Becca below), but it's such a fabulous way to be creative for anyone of any age. I've even posted a great basic crochet video by Lion Brand over at Babble, so you too can learn to chain stitch and get working on a something fun like a flower or scarf.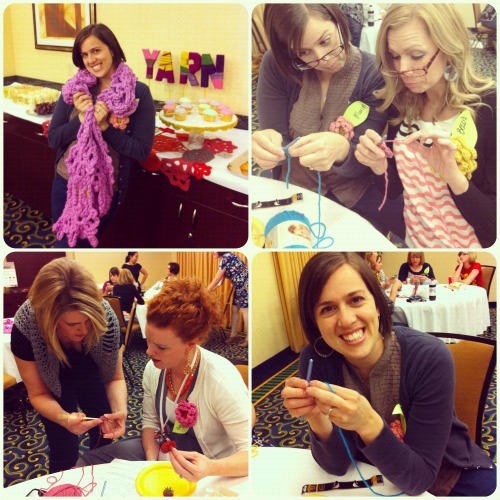 When I got home, my daughter took right to the crochet hook and asked what it was. I was happy to show her and crochet up a quick little chain stitch snake! Since she saw how fun this little snake was, I've been crocheting a whole family of snakes! If you can do a basic chain stitch, you can make a fun playtime snake for the kids! Thanks to Lion Brand Yarn for being an M&T sponsor and bringing crafty snakes into our home ;)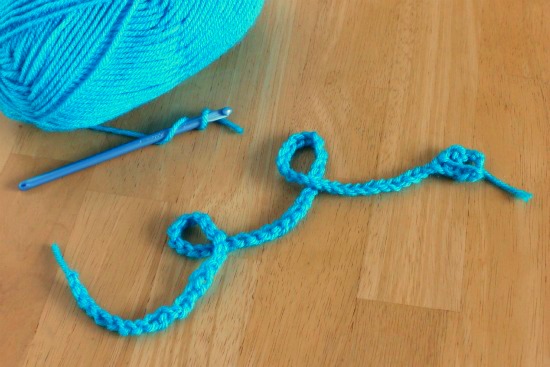 And last but not least, what would a craft conference be without crafts? Mique and Jessica from The QueenBee Market showed up with 40 of their amazing vendors. It was a shop til' you drop day! I picked up way too many earrings from Hoopla (so cute and cheap). I also loved the silly sayings from Livy Love Designs.
All in all, a fabulous conference. Make sure you check it out for 2013 if you're a crafty blogger. Big shout-out to some of SNAP! sponsors: Scentsy, Simplicity, IKEA, Homes.com, Riley Blake Designs, Spellbinders, Singer, Imaginisce. As without sponsors at events like this, we wouldn't be able to enjoy the awesomeness of real life relationships!