***Update: Thanks for all the advice. I picked up a Skip Hop bag from Target. It fits the budget and my style, I like a basic black!
Hello again! I'm having fun with my new baby. She doesn't do much but eat, sleep, and poop – a lot. She loves to stare off into space. My older kids are ready for her to crawl or talk. I'm just happy she doesn't cry much at all. We're able to get a few 3-4 hour chunks of sleep each night. I'm doing great and my energy is high, a big difference from being prego. Thanks for all the great comments and support! I'm ready to get crafting again!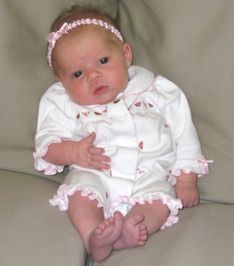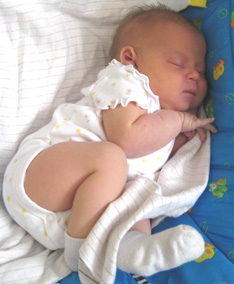 But for now, I'm in desperate need of a diaper bag. I'm using the one they gave me from the hospital and it's not doing the job. I've forgotten how much crap needs to be lugged around for the baby, as well as my own personal things. I'm going to be developing large shoulder muscles! And most of the items in a diaper bag are "just in case" something happens, like blow outs and spit ups. Or I might just need 10 binkies, or 3 blankets, or 8 tubes of diaper cream, or play toys, or older kid's treats, etc… The list goes on.
So I need HELP:
What diaper bags have some of you used?
What features do you like/need?
What essentials are put in your diaper bag that you can't live without?