I've talked about Startup Princess before, but I'm excited to share what they're up to now. As some of you may know, Startup Princess was founded by Kelly, a woman and mother inspired to help other women entrepreneurs fulfill their business dreams. It can be a tough world out there for someone forming a startup business, and Kelly has put together a website that provides support and guidance from experts (fairy godmothers), mini classes, and conferences.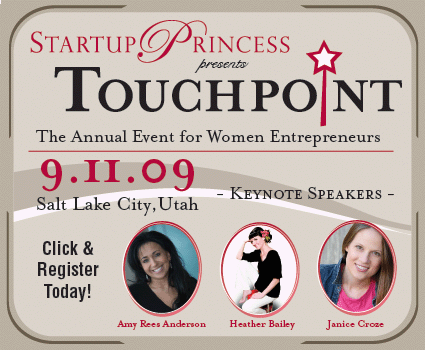 Their annual day conference Touchpoint, is coming up in just 3 weeks in Salt Lake City, UT and let me just tell you the fabulous women entrepreneurs in the line up!! Are you ready…
Heather Bailey – Yes THE Heather Bailey, the designer and creator of her own line of fabric, paper crafts, and sewing patterns. I can't tell you how many fabulous sewing projects I've seen using her lovely designs. She's coming to share the goods on how keep creativity alive in business and life.
Janice Croze – the twin mastermind behind 5 Minutes for Mom. Janice and her sister Susan, have formed a fabulous online community for women and mothers. She'll be sharing information on how to build relationships and partnerships, something we all need to help our companies grow.
Amy Rees Anderson – Founder and CEO of Medi-connect Global. Amy grew this amazing company to what it is today. She'll be sharing ways to help strategize your business!
And that's only to name a few. It's going to be quite a day filled with great information and networking! I'll be going to support my local art boutique, and to showcase a new M&T adventure I've got in the works (more details to come soon!) There's even a boutique showcase at the end of the conference where you can sign up to sell and show off your own goods.
The best part: here's a super special coupon code!!! If you sign up with this special Make and Takes code, just for you, you'll get $10 off the price. You'll only pay $89 to get in to the Touchpoint conference and hear from amazing and inspiring women.
CODE: makeandtakes
If you're coming, let me know! I'd love to meet you and find out more about what your startup business is all about (don't we all have some sort of idea rolling around in our heads?!)