What a great weekend. Thanks to the BlissDom '09 organizers Allison Worthington and Barbara Jones, it was fabulous. I moderated the panel discussing Social Media, a topic which I have lots of interest in. And thank you to my roomies, Katie from Moms in the Right and Nicole, aka Gidget Goes Home. Nicole and I kept getting asked if we were sisters (I wish), but we had just met! If you live in So Cal, check out her San Diego Mommy Spot too!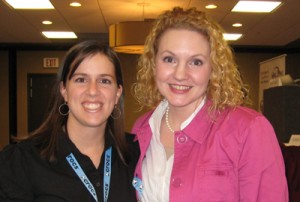 Here's some of my favorite bloggers I've admired from afar that I met at Blissdom. I'm happy to say I know them in real life!
Here's some of the new amazing people I met at the conference you need to know about. Check out the fun things they're doing.
And lastly there's Jyl & Carissa from Mom it Forward. These two are doing amazing things! On Sunday before we left, they organized a service project to volunteer at the Nashville Rescue Mission. We helped prepare lunch for over 500 people. It was such an amazing experience and I feel inspired to keep Mommin' it Forward. UPDATE: Link to the pictures and video of our experience: http://tr.im/fzwj