BlogHer was a fantastic, I can't believe it's already come and gone. There was so much happening, it almost seems like a blur. I'm glad I took a few photos to remember what I did. Here's a recap of the goings-on in Chicago at BlogHer 09′!
The Bloggers – The Best Part:
The main reason I choose to go to blogging conferences is to meet the bloggers. I've "known" them online for what seems like forever, but when I to get to meet them in real life (IRL), it's the best. There were old friends, new friends, the best roomies, and even blogebrities! Here's a shout out to a few fabulous bloggers: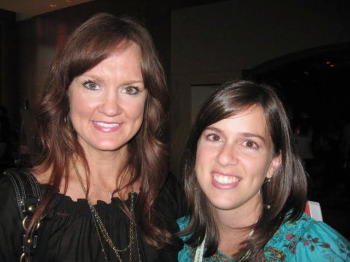 The Parties – The Second Best Part:

Of course there was SocialLuxe Lounge.
Then I was a dancing Queen at Sparklecorn, hosted by MamaPop.
Of course, the ever talked about CheeseburHer party!
The Shutter Sister's Suite was a highlight, where I got to learn how to use my camera. I knew I could take better pictures!
And Bowlher was a hit too. More dancing there and maybe jumping off counters (and I was even sober!)
Another fun party I went to was a Nikon party with Carson Kressley from How to Look Good Naked was there. He gave some great tips on taking a good photo. He told me not to hold my head up too high, as the first photo they took my chin was in the center of my face.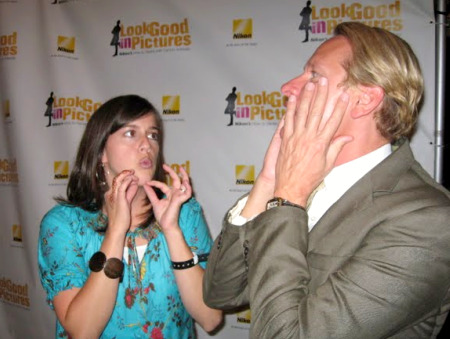 So I looked straight into the camera and I think it turned out great! What do you think?
The Panels – Great Blogging Information:
There were some really great panel discussions going on both days of BlogHer. I only made it to a few, as lots of blogger discussions were out in the lobby, but the ones I did go to were fabulous. One that stuck out for me was "From Blog to Book". There were published authors on the panel, all bloggers from the start. It was great to hear their road to getting published. Another panel that was packed was "Brands and Blogging". It had some great information for both bloggers and brands, how to work together to get the right message out to readers. There's a lot of talk about Blogging with Integrity, and both sides want what's best for their audience.
The Expo – Sponsor Showcase:
Sponsors are a big part of the conference. Brands from all over come to show off their stuff. They want bloggers to get involved and write about them sharing what new things they've got happening. Some companies held private parties, some were part of other parties, and some were down at the BlogHer Expo. Here's me sporting an Energizer bunny hat and with Mrs. Potato Head, who makes me look good! Even Ms. Paula Deen was there with Walmart answering our questions!
The City – Sight Seeing Chicago
Chicago is my new favorite city. It was beautiful. I was able to run a BlogHer 5k early one morning and ran right along the lake. And I love that the Chicago river runs right through downtown. After the conference, we did a little sight seeing, ate some cupcakes, and came upon this fun street show. These guys know how to entertain, workin' hard for their money!
Tell me how BlogHer was for you, or let me know if you're thinking about going next year! It's going to be in New York City 2010 – I'll be there!