I recently returned from the sunny sandy beaches of California, Laguna Beach to be exact, where I attended the Mom 2.0 Summit. This is one of my favorite conferences, good blogging panels, good sponsors, and good people. I've talked about the reasons I go to blog conference and they are still the same. I love to connect in real life. It makes such a difference to be able to high five or hug someone you've been social with online and take it offline. And sandy beaches made it all the more sweet. It was conference bliss.
Shout out to roomies and a few fabulous friends: Allison Petit Elefant, Alissa Rags to Stitches, Andrea For the Love of, Jeannett Life Rearranged, Asha Parent Hacks, Christine Boston Mamas, Heather & Whitney Rookie Moms, Amy Teach Mama, Rachel Handmade Charlotte, Kristen Rage Against the Minivan, Sarah Whoorl.
The most anticipated part of the conference for me was the Run 2.0 that is held on the first morning. I've been running it for the last 5 years and helping organize. This year, they brought on MinuteClinic as the run sponsor. I was lucky enough to be partnered up with MinuteClinic and they sponsored me to the conference. I was able to help consult on the run and rally folks to come out for the race. I have to say it was the most fun the run has ever been.
It was right along the beach on a paved path. It can't get much better than that. MinuteClinic provided fabulous t-shirts, the really good running kind that are slick and moisture wicking! And they had fun prizes and challenges along the way.
Here's a little video of the run:
Nurse practioners were there to ask us questions about our health and common health related myths. Allergies was one answer – me sneezing, and Whitney and I are breaking free from the health myths!
My favorite part of the run was getting to pal up with my two favorite running girls, Christine and Heather. If you don't already know, we write the Eat. Blog. Run website together. They are my running souls sisters! It was fun to partner with MinuteClinic on this event, run along the beach, and sport our Team Sparkle skirts!!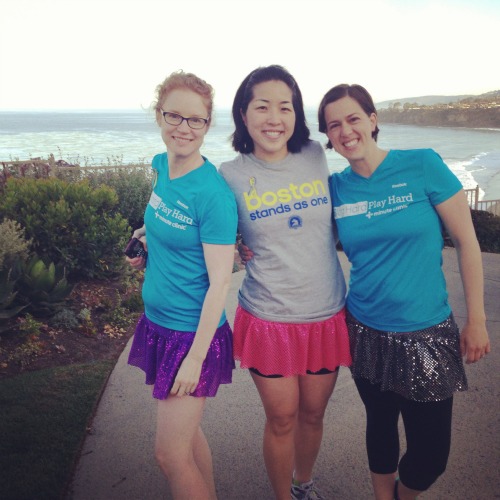 All in all, it was conference bliss. I love blogging and having the opportunity to share inspiration. Big thanks to my readers to allow me to keep up this amazing gig!