A couple of weeks back, I attended Craft and Hobby Association Trade Show. It's a convention where all the craft companies gather to market their newest and most fabulous wares. I've probably said this enough on facebook, but I was really truly in crafters heaven. Here's a few of the fun things I want to share.
First of all, a big thank you to DecoArt for sponsoring my trip out there. I've loved working with them on my blog and believe they are one of those tried and true companies. I even offered to share a little quote for them for CHA, and come to find out they turned it into a life-size poster of ME!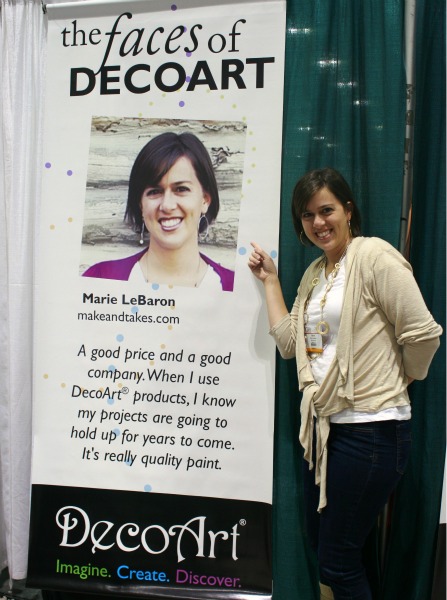 For a peek at the DecoArt booth and what they had to offer, check out Kami, Cindy and I in this video (I'm behind the camera!)
The convention center in LA was filled to capacity with amazing creative and crafty companies. From paper and glue to feathers and buttons. Elmers, Fiskars, ProvoCraft, EK Success, DMC, and FloraCraft just to name a few. Here's me with the Double Stitch Twins at the Red Heart Yarn booth! Aren't they absolutely beautiful in their crocheted outfits?!
Who can leave out the crafty bloggers that made an appearance at CHA: Cindy, Jen, Kami, Heather, me, Laurie, Beckie and Amy. It was fun to chat all weekend about the amazing show and inspiration. I love these creative women! Photo credit: No Biggie.