My yearly subscription to Everyday Food Magazine has started coming in the mail. It is a like a little "food fairy" that comes every month. I love this magazine. It not only has great pictures (a must have for any cookbook), it also has great recipes. I do have to say that a few of the recipes are out of my league or some are made with ingredients that I probably would never try, but overall, it is a great buy! I have just been going back through all my old magazines that I have collected. I do buy them at the grocery store on the magazine rack, but I love the subscription in the mail and it's much cheaper.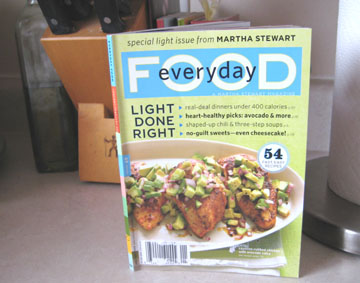 Here is how I display my little magazine while I am cooking. I set it around the paper towel holder so that it stays open and I can see the recipe still. When I lay it on the counter, the pages flop over and I get my place mixed up.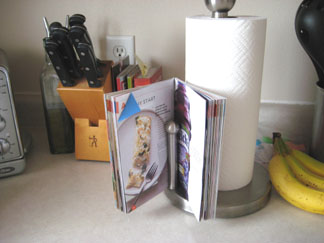 Because I love this recipe book sooooo much, I have vowed to make at least 1 recipe from it a week, maybe two if I am feeling ambitious. Last night I made this great Spinach Cheese Omelet. I have had a bag of Baby Spinach in the fridge from making a yummy spinach salad, so when I saw that this called for spinach, I was delighted that I had some already. Saute a cup of spinach in olive oil, add 1-2 eggs. It calls for only egg whites, which is much heart healthier, but I needed some protein so I used the whole egg. As is cooks, add cheese. I didn't have cottage cheese, so I used feta cheese instead. Then fold it over on itself on a plate. I am never good at folding omelets, but it still tastes delicious. I baked a potato to go with it, sprinkled with a little Parmesan cheese.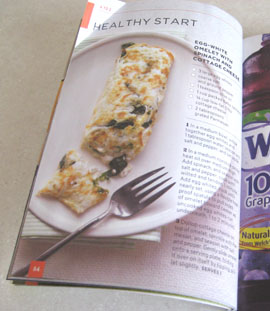 I'm sure I will be sharing more favorite recipes from this magazine. I love their TV show as well. Check your listings for it on PBS. What recipes have you made and loved from the Everyday Food Magazine?