Along with our Grand America spa day, a few bloggers were treated to dinner by The Melting Pot. I've always wanted to go there for dinner and try out their fondue goodness. And I have to say it was heaven!
We started with cheese fondue, then dipped and cooked our meat and lobster in Coq au Vin, followed by dessert. Oh the dessert! It was chocolate fondue paradise. But the best part was that we didn't feel rushed to leave. We dipped, chatted, and dipped some more for 4 hours, yes, 4 hours. Our server was great and didn't shoo us out the door. No one was cleaning out our table while we were still eating! It would definitely be money well spent for the whole dining experience. Can you see how happy I am about the night?!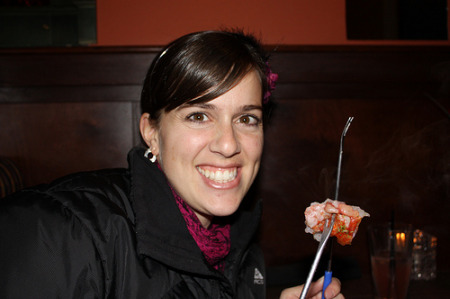 (above photos courtesy of Petit Elefant)
And right now for the Holidays, The Melting Pot in Salt Lake City, UT is offering an amazing dining deal. Guests who purchase $100 in Gift Cards get a Holiday Gift of four $25 cards that may be used quarterly throughout 2010. But you must come in to the restaurant for purchase, call 521-MELT or email [email protected]. (They have extended Holiday hours!)
To see more of our night, here's the Whrrl story of our time at Melting Pot! Happy Holidays!