I've talked about some really good reasons for going to blog conferences before, but I can't stress enough what an amazing community there is of women bloggers! I just got back from New York City where I attended BlogHer, a conference of 2400 women (and men) bloggers. So after hosting the fun and fabulous event SocialLuxe Lounge, we hit the town, the conference, and even went on a run!
Here's just a taste of what I experienced last week at BlogHer:
Bright Lights, Big City:
I had just a little time for sight seeing. I wish it was more, so I'm going to have to go back. Here are a few fun friends at Time's Square.
BlogHer 5k & Tutus For Tanner:
I got up bright and early to run this year's BlogHer 5k through Central Park. I had to do it, and it was such a pretty run. Here's Kelly of Centsible Life and I struttin' our stuff!
During the run, Catherine of Her Bad Mother had organized for everyone to wear tutus on the run, helping to raise awareness for her nephew Tanner. He suffers from Duchenne Muscular Dystrophy, a muscle degeneration disease that is terminal. His family is trying to raise money to help him be in the comfort of his own home while he goes through this, but they need to reconstruct their house to allow their home to accommodate his needs. I started running this race as any other, just running my 3 miles. But then as I ran in my blue tutu, under my red Eat Blog Run skirt, the tears started coming as people along the path were asking me why I was wearing a tutu and I would start to explain. And as I passed Tanner on the trail, I thanked him for the opportunity to run for him. It was a very touching moment and I was so happy to be a part of it. Click here to donate to his cause.
Blogging Friends New and Old:
Having attend a few conference over the last year or so, it's been fun to keep seeing many of the same women, getting to know them on even deeper levels, making real friendships. And I've also been able to meet many new blogging women who I can't wait to get to know better. Here are a few of us dancing the night away at one of the BlogHer parties!
Celebrities:
Yes, that is Nate Berkus with Jane Maynard and I! He is super dreamy, those eyes, and so personable. He's hosting his own TV show The Nate Berkus Show and I can't wait to set my DVR!
The one and only Robert Verdi. I've loved him ever since his show Surprise by Design on HGTV. I so wanted him to come makeover my house. BUT instead, last week at the Getting Gorgeous event, he was there to help me pick out the perfect jeans. Miracle Body put me in a size smaller than I normally am, and I learned the term Jeggings: Jean Leggings!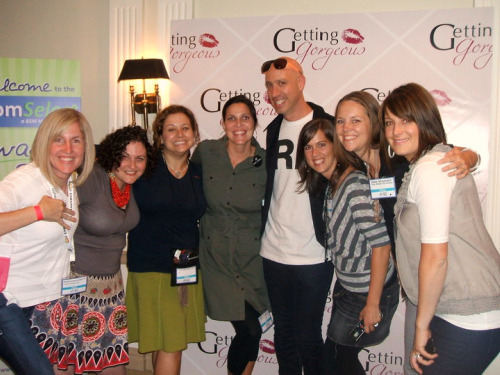 Ms. Frizzle herself! I attended an event hosted by Scholastic and we met with Ms. Frizzle and drove in the Magic School Bus! So fun.
BlogHer 11′ is headed to San Diego, California next August and I'll be there. Will you?
Photo Credits: Because I'm horrible at getting my own camera out and rely on the photo skills of others, so thanks to – Justin Hackworth, Christine Koh, Kami Bigler, Esther of She Posts