This cute little storybook, Guess How Much I Love You, is one of our family's favorites. I've written about it before and how we love to come up with new ways to say I love you. "I love you to the rocks and back". "I love you to the stars and back". And so on and so on until we let our kids say it last with something like, "I love you to your heart and back"… you just can't beat that!
A few weeks back, Hallmark sent me one of their new recordable storybooks. And guess what story it just so happened to be that they sent?! That's right, our family's favorite book, Guess How Much I Love You!
These recordable storybooks are the best. I left for a conference recently and was able to record my voice reading this story to my kids and they couldn't get enough. My husband said my 2 year old listened to it 10 times a day, again and again. I loved that a little bit of me was with them while I was gone.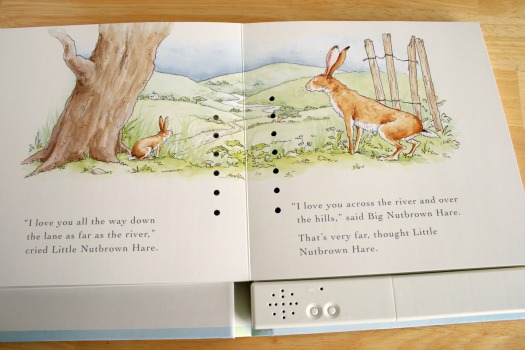 And the best part about these books is you can erase it and re-record it anytime. Next, I want to record a version of our whole family reading this book, one page at a time. So fun.
Do you have a favorite Storybook? Something fun for the whole family?