I was running and running and running. I really felt like Forrest this last weekend as my family and I ran the Hood to Coast relay race in Oregon. We ran 197 miles in the most beautiful areas of Oregon. From Mount Hood, through Portland, country roads, and finishing at the beach. It was so hard, but worth every second of it.
I was the last to come in and just before the finish, the whole team came together and we ran it in. I do not know how my body did this, any of us. You train and get as ready as you can, but it is so unexpected. I ran 6 miles, then 8 hours later, 4.9 miles, then 8 hours later, 5.2 miles. And somehow, I did this all on 2 hours of sleep. As crazy as it sounds, I would do this again next year. But, I will be taking a break from running. Maybe I'll hit the bike instead for a while! Then there is my sweet husband, who has a knee injury and drove our van instead. Thanks, sweety!
In Make and Take fashion, I came up with a little costume for my family to wear at the end of the race. We were the "Incredible Holts", so green and purple were the colors. T-shirts were made by iron-ons. If you haven't done iron-ons before, soooo easy. They just printed off the computer and ironed right on to the shirts. My brother and brother-in-law, took the time to super-impose our own faces on to the Hulk body. The guys all had Hulk bodies and the girls had a She Hulk body we found, both with running shoes of course.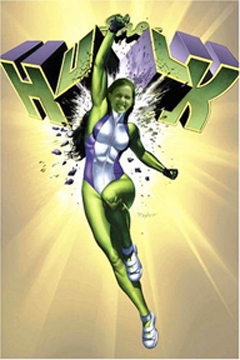 I also sewed a quick skirt that was purple and stretchy with ripped up edges. I actually ran in this with my biker shorts on the last leg. Then I bought those great craft foam visor hats in green and hot glued black fur at the top to look like Hulk's hair. Then I made some arm bands that were ripped in green Hulk fashion. I even ordered Hulk rub-on tatoos of ebay. To top it off, we borrowed some fun Hulk hands that I ran in with at the finish.
Have fun running and I highly suggest a relay!! What have you been training for this summer or what have you already done? Share it in a comment below.