This giveaway is now closed. Thank to all who entered. Congrats to the following:
Faber-Castell: #26 Julie, #216 Ashley K
Riddle Me: #178 Julie B, #112 Apple Tree, #30 Mellisa W., #4 Cathy R., #225 Debbie G
Minted: #232 Susie G
RABOM: #92 Callie S.
Photo Jewelry: #211 Cindee
TL Art Shoppe: #251 Teri.
It's time for another round of fabulous giveaways from these lovely Make and Takes sponsors. It seems to be raining prizes this April as we've got all kinds of fun things to win.
Up first is Faber-Castell Design Memory Craft. They've got 2 great kits that are perfect for all things craft. The Color Gelatos slide easily onto papers and can then be dissolved with water to create watercolor effects, or left to dry for vibrant bursts of color. The Mixed Media Sampler Kit includes a Stamper's Big Brush, Gelato Metallic Stick, Pastel Pencil and Art GRIP Aquarelle Watercolor pencil. Get ready to experiment with mixing colors and mediums or layer different mediums to create depth and details. Make sure to follow them on twitter and facebook. 2 winners will receive Color Gelatos & Clear Stamp kit and Mixed Media & Collage Kit.
Next we have the riddle and scavenger hunt making software, Riddle Me. If you have children who are always on the look out for treasure, then this software is just what you need. This clever program does all the work for you. Simply choose the locations from your home inventory, print out the cards, attach them to the items around the house, and the kids are on their way. It's perfect for holidays, birthdays, even rainy days, which we seem to be having a lot of around here. 5 winners will be receiving a copy of the Riddle Me software, a $20 value.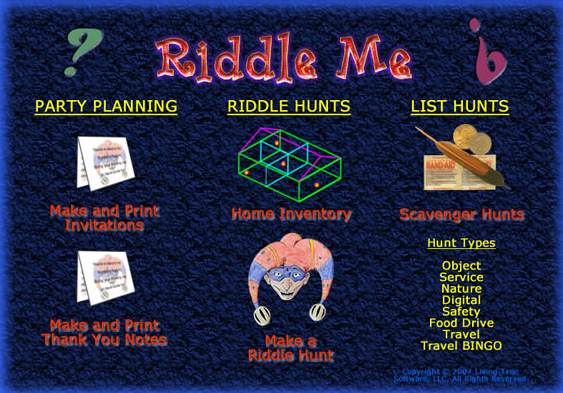 Here we've got Minted. They've got your greeting cards and invitations covered, especially those you might be sending out to Mom next week. With fresh designs and a modern feel, they're just what you need for your wedding, birthday, and holiday occasions. And for the next 2 weeks, Minted will be hosting a super generous promotion: Free address labels for all first time newsletters registrants to Minted! Yahoo. Get ready to enter below, as 1 winner will receive a $100 gift certificate to spend at Minted.com, more than enough to give the Moms and Grandmas in your life photo cards and calendars for Mother's Day.
Next up is Ribbons and Bows, Oh My! They are here again to shower us with more lovely ribbon. One winner will receive a gift basket of ribbon valued at $100. That's a whole lot o' ribbon, but I'm sure all you crafty people would put it to good use! And for the next week, all orders over $40 include free shipping. Yipee. Can you say hair bows or skirt embellishments or ribbon wands?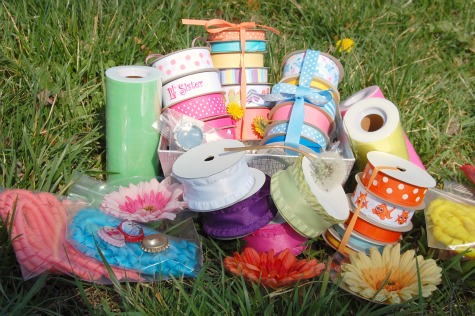 Now on to Photo Jewelry Making. They are a long time sponsor of M&T and I'm happy to showcase what they do best, DIY photo jewelry. They are giving away 1 – $50 gift certificate towards anything in their shop. You could use it to make bottle cap jewelry, photo rings, and DIY photo jewelry kits. These would all make great gifts for Mom, I'm sure she'd love to see a few grandkids on a necklace or bracelet.
Up last, but definitely not least, is Tom and Lucy's Art Shoppe. This is for Utah locals or anyone who will be nearby on May 19-21. The Art Shoppe is hosting its fifth shoppe with over 30 unique and local vendors selling their products and designs, you're sure to find something you'll love. They'll have toys and games, jewelry and home decor, candies and sweets, and much more. On opening night, Thursday May 19th, the Sassy Scoops will be helping to host a special Girl's Night Out. So to make things all the more sweet, 1 winner will receive a $25 gift certificate toward anything in the shoppe.
______________________________________________________________
Giveaway Entries: For your chance to win one of these 6 prizes above, leave a comment on this post by Thursday May 5th @ midnight. I'll announce the winner chosen from random on Friday morning May 6th. Good Luck!
Extra Entries – enter a new comment for each extra entry telling what you did: