I am beyond thrilled to share that I'm coming out with a book! A book!! I cannot tell you how excited I am to finally share the news with all of you, it's for sale in just a few weeks. Over the last year I've been writing and crafting 50 all new kid's craft projects just for my upcoming book, Make and Takes for Kids: 50 crafts throughout the year.
Yippee!
Isn't my little snake guy so cute? So fun to see him on the front of a book!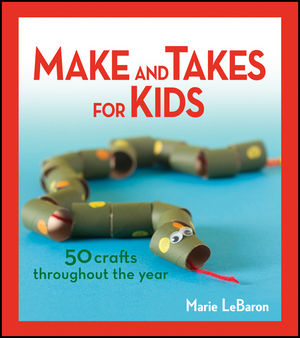 It's being published with Wiley Publishing, who have been amazing to work with. The photos come from the fabulous photography of Nicole Hill. I love her photos, she's got mad skills. I was so happy to have her help my crafts come to life. The book showcases 50 crafts for the year, 4-5 ideas for every month. There's a Snow Bug Hat, Heart Shaped Bracelets, Halloween Cards, Sunflower Cookie Pops and many more.
Really, it's all been a such a treat. I've wanted to write a book for a long time. It was a whirlwind of writing, crafting, photographing, editing, and now sharing! The first time I saw the final photos of each project, I got all teary-eyed, not believing that it was all happening.
Make and Takes for Kids officially comes out on November 1st, less than 4 weeks away. It will be available at most book retailers and online, just in time as a perfect little stocking stuffer for the holidays! My cute mom and mother in law have already both pre-ordered copies, I love it!! And I'll be organizing a blog tour with lots of chances for you to win a free copy, so keep your eyes out early in November.
I'll be sure to post more pictures of the book in the next couple of weeks. Yay!