Here are Last Years costumes. I had to share cutie CareBear and Napoleon Dynamite. I love that costume. He was quoting the movie all year.
Here are This Year's costumes. Tinker bell, because she acts just like Tinker bell. She is sweet and adorable, then feisty and stubborn.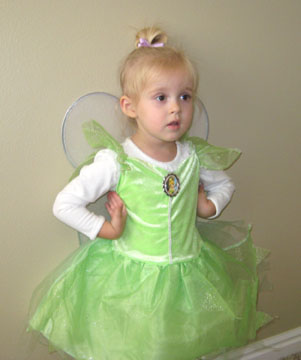 My son was going to be Darth Vadar, but Jordan didn't want his son to be anything involving the Dark Side! So we decided on "Luke Skywalker from Episode 6", wearing all black and has a green light saber". Quite the details. Really it is just black pants, black cloak, and green light saber. So cool. I did make the cloak, I followed the same pattern as I made the Hooded Bath Towels.
I hope you are all costumed up and ready for the candy. Have fun and stay safe.