This holiday season, Klutz is giving you the chance to win 5 titles from the Klutz library. They sent me 2 of their books to review and now I'm hooked. My kids loved them. They were occupied for over an hour, which is like a lifetime in kid play! If I can get my kids doing any one activity for more than 20 minutes, I'm in heaven!
Each activity book comes complete with everything they need to play and learn. We tried out the Thumb Doodles book and the Short Stuff animal book. My son loved stamping his fingers to make cute little characters. And the ink washed right off, yay! With the animal book, they each stuffed their own creature and then used the velcro pieces to turn them into different animals. Lots of monkey cats and puppy birds were created.
You can also get Free Shipping & a Free copy of their award winning Activity Book when you spend $50! (The activity book is called "The Only Coloring, Puzzle, Game, Dot-to Dot Activity Book You'll Ever Need," valued at $14.95 and will be added to your shopping cart once you hit $50 mark). Click here to go to Klutz.com & take advantage of this exclusive offer! This holiday offer is only available for a limited time.
~~~~~~~~~~~~~~~~~~~~~~~~~~~~~~~~~~~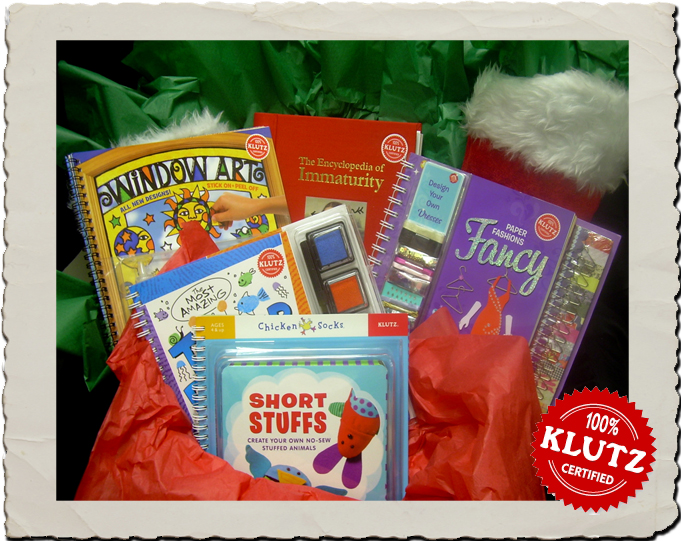 Klutz Giveaway: To enter in for the prize pack above, leave a comment on this post by Thursday, December 11th at Midnight and I'll announce the winner Friday the 12th. For another chance to win, head on over to Blissful Kids as they're hosting a Klutz Giveaway as well. This holiday, give the gift of fun with Klutz activity books!
This Giveaway is now Closed