I'm happy to announce: Make & Takes Monster Mania: Crafts for Little Monsters!
Simply sign up for the Make and Takes Newsletter and you'll receive a FREE copy of this Monster Mania ebook.
With 70 pages of 15 all new crafts for kids. Each craft comes with a supply list, learning objectives, step by step instructions, and detailed photos.
Once you've completed the crafts in this eBook, you'll be ready to give a SCARE to all those around you. Using your imagination, you'll be eating Monster Stew and wearing Hairy Monster Feet, or swim with a Sea Monster in the tub!
These crafts give children the opportunity to cultivate creativity, learn to follow directions, and enrich imaginative play.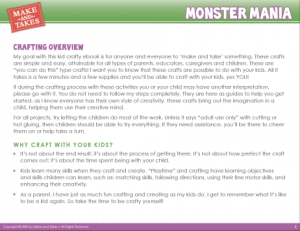 To get your FREE copy of Monster Mania, simply sign up for the Make and Takes Newsletter! Sign up now!

Spread the Word about Monster Mania with these Monsterific buttons!

<a href="http://www.makeandtakes.com/monster-mania-ebook" target="_blank"><img src="http://www.makeandtakes.com/wp-content/uploads/MT-Monster-Button-125px.jpg" width="125″ height="125″ alt="Make and Takes Monster Mania" border="0″/></a>

<a href=http://www.makeandtakes.com/monster-mania-ebook" target="_blank"><img src="http://www.makeandtakes.com/wp-content/uploads/MT-Monster-Button-250px.jpg" width="250″ height="250″ alt="Make and Takes Monster Mania" border="0″/></a>