Oh sweet Mamas (and crafty Papas) out in the blogosphere, am I getting too esoteric? Perhaps in my quests to get a little greener, I may forget that it really is the little things that count. So it's back to basics. So here's my list of three EASY things you can implement NOW to make a HUGE impact for Mother Earth (I mean, sure Mother's Day was Sunday, but we're still celebrating all types of M-O-M-S right?)
WATER BOTTLES: My four year old kicked off spring with beehive soccer. From his experience, it was painfully apparent to me that we're teaching our kids to be irresponsible about waste. "If just two out of three sports fans refilled a water bottle rather than buying a new one, it would save about as many plastic bottles as there are people in the United States," (The Green Book, Three Rivers Press 2007). Now imagine if the athletes took advantage of water bottles, verses paper cups or (gasp!) "fruit drinks." We know our kids are better off with water. Let's teach them a game plan for success on and off the field.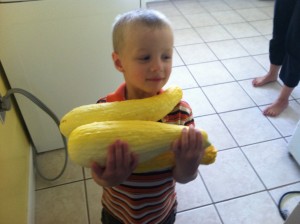 FRUITS & VEGGIES: I say this now because it's an easy time of year to do it; and as we approach summer it's just going to keep getting easier. Opt for fresh fruits and veggies as opposed to canned or frozen. "The process involved with canning fruit is at least ten times more energy intensive than picking fresh fruit. If every U.S. household replaced just one pound of canned or jarred fruit with one pound of fresh fruit during each of the three summer months, the total energy saved could operate the kitchen appliances of over twenty-one thousand households for an entire year," (The Green Book).
TEXT MORE, EMAIL LESS: OK, this is kind of a quirky one, but I said I was giving you easy things, right? Sending a text message from a mobile or smartphone, instead of a computer saves more than thirty-times the electricity per message. After all, brevity is the key to good communication – so just make sure you've got a good data plan. (Emoticon, wink, wink.) And yes, this factoid came by way of the "The Green Book" as well. It's really become my Bible of practical and world-changing habits that are super easy to adopt. I highly suggest checking it out!