Rhubarb mixed with strawberries is a perfect combination, a little tart and very sweet. And with rhubarb in season, I had to make a yummy dessert. I've shared my Mom's delicious Strawberry Rhubarb Crumb Cake before, so I tried making a pie this time, perfect for a Mother's Day dessert.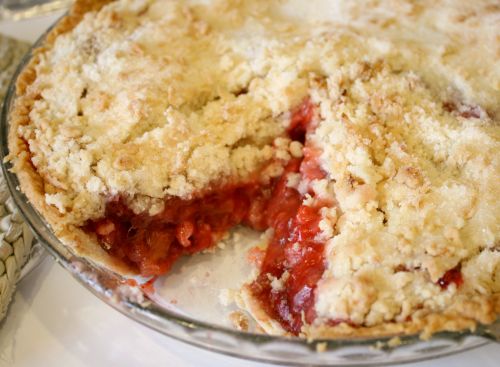 Recipe for Strawberry Rhubarb Pie:
2 cups cut up rhubarb
2 cups cut up strawberries
1/3 cup cornstarch
1 cup sugar
2 T lemon juice
Topping: 3/4 c. sugar, 1/2 cup flour, 1/4 cup butter
pie crust – store bought is fine, but I like to make Martha Stewart's Pie Crust
This recipe is pretty much the same idea as the crumb cake, but with a pie crust instead of cake at the bottom. On low heat, cook fruit covered about 5 min. Add lemon juice. Combine 1 cup sugar and 1/3 cup cornstarch. Add to rhubarb mixture. Cook and stir 4 – 5 min. until thickened and bubbly. Cool.
Prepare your pie crust and pour in the filling. Make your topping in a seperate bowl of sugar, flour and butter. Sprinkle it on top of the filling.
Bake in a pre-heated oven at 400 for 25-30 minutes. If you feel it needs more time, reduce the heat to 350 for another 10-15 minutes. You want the sugar to have melted with the butter for a brown and crusty topping.
What puckering desserts have you made with Rhubarb before?