We're making a few festive rainbow cards for spring using little dots of puffy paint. Puffy paint has such a fun texture to it, making your cards pop out and come to life. With these darling rainbow cards, we're painting lots of little dots for each color to our rainbow pictures. A little goes a long way!
I'm partnering with Gain Flings for today's post, helping us see how a little does go a long way. Gain has just come out with these fabulous new little flings, available at Target. Toss one little fling into the washer with your clothes to help get your whole load of laundry clean… a little going a long way.
Just like those laundry flings, we're creating a fun puffy paint DIY project to help bring our little rainbows to life!
Supplies for Puffy Paint Rainbow Cards:
puffy paint in rainbow colors
pencil
white cardstock paper
paper towel – optional
1. Fold your paper in half to make a card.
2. Using your pencil, draw dots in the spots where you want your puffy paint. This will make it easier as you create your image. It's very easy to get off track on your lines if you don't have a pencil guide, if you're going for a specific image.
3. Add little puffy paint dots to your pencil spots. For the rainbow, I only added pencil for the first color. I did the other colors just inside each one, following the rainbow shape.
Having a paper towel nearby is a great way to test out your puffy paint. You don't want too much coming out at one time. Try your best to get each dot painted on evenly.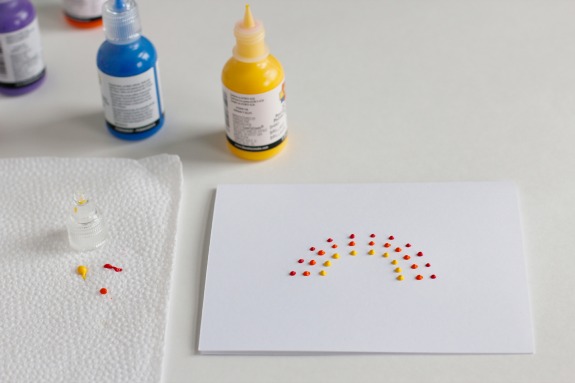 4. Let your puffy paint pictures dry for a few hours, even overnight if possible.
You can make all sorts of fun pictures with your little dots of puffy paint. These will make great cards to gift to friends and family.
The possibilities are endless with this fun puffy paint to make festive little rainbows!

_______________________________________________

UPDATE
: We have our winner: Comment #71 written by Cathy S.! Wahoo. I'll contact you via email for your winnings!
Now I get to share more fun by offering a sweepstakes to win a Target GiftCard… Little Bit Goes a Long Way Sweepstakes! One random winner will be selected from the comments to receive a Target GiftCard for $300, yahoo! Be sure to answer the question: What little things do you do that go a long way? See official rules for details, 1 entry per person, sweepstakes ends 3/31/13. Good luck!
**This post is sponsored by P&G. Save on NEW Gain Flings and Tide Pods at Target. Text CLEAN to Target (827438) for mobile coupons*.

*Message and data rates may apply. 1 message per request. http://m.target.com/spot/sms/coupon-alrts-terms for Terms, Conditions, and Privacy Policy. By texting the key word to us, you agree to receive an autodialed text message from Target at the mobile number from which you sent your request. Consent to receive messages is not a condition of purchase.