School has begun! I have a 3rd grader, 1st grader, and my little 3 year old just started preschool. It was a big jump going from everyone at home for the summer to now the house is really really quiet. It's a good quiet. I miss my kids, but it's nice to have them in school where they are excited to be, making friends and learning.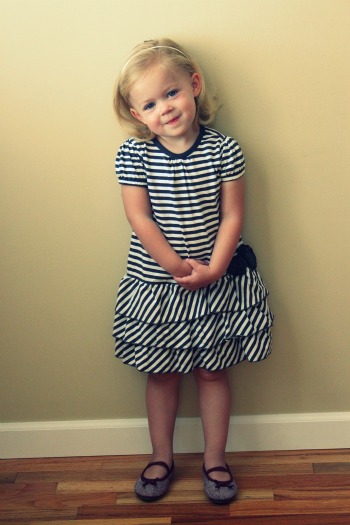 My littlest one, cute as ever, has been a little apprehensive to go to preschool. I've always started my kids with preschool at 3 years old. I think it's good for them to have a routine and develop social skills. And my kids have all been ready. Even my now 3 year old. She talks about school all day long, she can't wait to see Miss Wendy, she wears her backpack everywhere, and loves to help make her lunch in the morning. But even today, right outside the preschool door, she had tears saying "I don't want to go to preschool".
Ouch, break. my. heart.
My first instinct is to pick her up, hold her tight, and run right out the door. But I know that right when she walks into the school, she'll be engaged with her teacher and the other children. The other 2 days she's had at school, the second I leave, she's playing and happy. So I know that it's just nerves right at the beginning, and will probably continue for a few weeks.
Do you have a little one who is apprehensive as well?
Here's a few tricks that have helped my little preschooler make the choice to stay:
1. Don't pick them up: The second you pick them up, they are hooked to you with an iron grip and it's harder to put them down again. Try your best to just hold their hand or bend down to their level.
2. Let them know you'll be back: Telling my daughter that I'll be back to get her has been the magic words. Giving her that sense of security that I'll be right back to get her helps her know that it's okay to stay, as "mom will come and get me when I'm done".
3. Give them a big breakfast: When kids have full tummies they seem to be able to focus on the task at hand, rather than their hunger. Today I even brought a little snack to have my preschooler eat right outside the doors, giving her a little comfort.
It all helped. She walked in and sat at the carpet, ready for the day!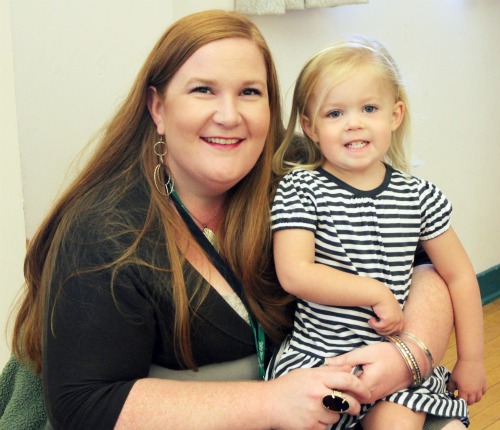 What are your tips? How are you making it work? Has the first few weeks been hard on you or your kids?
KinderCare will choose one lucky participant and make a donation in their name to the Reach Out And Readchapter of their choice!
This is a sponsored conversation written by me on behalf of KinderCare. The opinions and text are all mine. Official Contest Rules.