Summer Camp guest post by Amy of Let's Explore
On a recent afternoon where there was more squabbling than playing, I knew we needed a quick and simple boredom buster. I grabbed a stack of large index cards and a black Sharpie, and drew a quick squiggle on each one. I invited my girls to choose a squiggle and turn it into something fun.
We spent a good part of the afternoon making these tiny squiggle-inspired masterpieces. I loved watching the girls turn their cards in different directions and wonder what they could create. What a great way to stretch our imaginations!
I remember doing these as a kid – maybe you do, too? It's fun to make a big stack and grab one to draw on.  Or each person makes one, then passes it to another person to finish.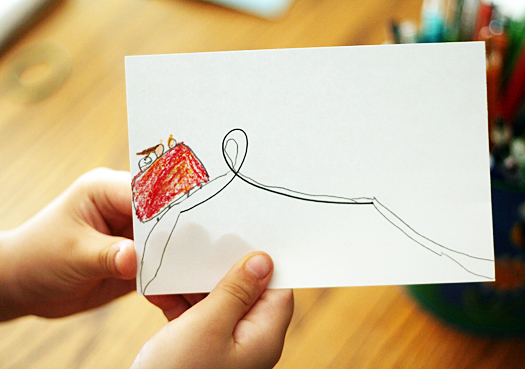 Tuck some squiggle cards in your purse for waiting time at a restaurant.  Bring a stack on a long car or plane ride. Turn the card over and write a sentence, poem, or story to go with it.  Or give it a fancy title, like Mountains at Sunset or Green Snake Hiding.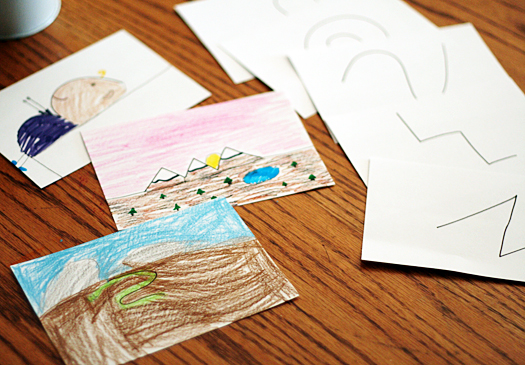 We enjoyed making small pieces of squiggle artwork, but you could certainly do these on larger paper, too. I'm thinking we'll try making a mural next time – a long piece of paper with squiggles all over it. Fun!
Happy creating!

Amy is happiest surrounded by her husband, two daughters, stacks of books, and craft supplies. With a background in psychology, early childhood education, and elementary teaching, Amy is a supporter of playing dress-up, digging in the dirt, and squeezing out puddles of glue. If she could share one message with parents and educators, it would be, "More play, please!" At her blog, Let's Explore, Amy shares her family's experiences creating, imagining, and playing together.