I've had the chance to go to another conference, Mom 2.0 Summit. Yes, 2 in one month, with BlissDom first… gotta love it! There were some amazing women at this conference, having now met most of my blogging idols. Kirtsy and Opmom joined forces and brought together great speakers, bloggers and marketers alike.
As I love this blogging gig here at Make and Takes, I'm learning how to improve and help it grow. Mom 2.0 has helped me do just that, giving me some great knowledge, inspiration, and skills (nunchuck skills, bow hunting skills…) Here's me and Guy Kawasaki! Thanks to Guy, I'm listed in the top 20 of Crafts at Alltop!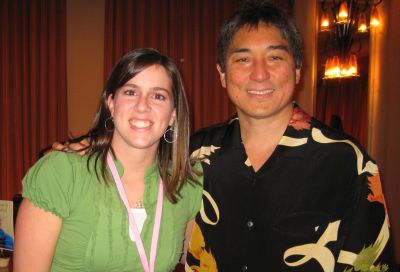 Here's some of the amazing people I got the chance to hang with, first off my great roomies:
There was even rip roaring, booty shakin', bra flying entertainment! Chris Mann performed live and even wore a Burger King bag on his head. We were also able to watch a Yanni Voices video performance. Nathan, one of the performers even came to answer our questions and sing on the fly! -watch their upcoming special on PBS.
All in all, it was a great weekend filled with beauties, business, and blogging. If you get the chance to go to a conference like this one, I highly suggest it. Next up is Blogher in July, who's gonna be there?
*Check out Ziv Gillat's photos up on Flickr for a behind the scene look at the conference, uploaded by his cool eye-fi gadget!