I am excited for today's storytime, as it's brought to you by a Guest Make and Taker. Kris, from Lima Bean Home, has participated in a fun storytime with her children using the book series, The Boxcar Children by Gertrude Chandler Warner. Here's Kris and her darling kids sharing their storytime and creative activity.
Recently at a community book exchange night, we traded one of our well-read storybooks for someone else's copy of The Boxcar Children. I have fond memories of reading this in my childhood; I was reminded why when reading it aloud to my 5-year old son. This book is a great read-aloud because it's full of dialogue, and the story is simple to follow and very appealing to kids of all ages.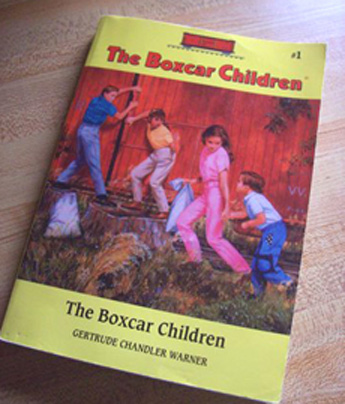 While reading, I quickly remembered what makes this book unique and timeless. The magic of the story lies in its portrayal of cheerful, resourceful siblings, Henry, Jessie, Violet and Benny Alden, who make themselves a cozy home in an abandoned boxcar, finding "treasures" around them to use in their daily lives. These "treasures" include abandoned dishes and pots which they clean and reuse in their cooking, collected piles of pine needles for bedding, and an old piece of wood which older brother Henry makes into a shelf to hold their reused items in the boxcar.
In our house we are always trying to think of ways to reuse everyday items that would normally be thrown away, thinking of them, as the Boxcar children do, as "treasures" to be given new purpose. We decided to make a version of Henry's shelf to hold the kids' craft supplies, using lids and containers that would have been tossed in the trash or the recycle bin. For the bottom of the shelf we used a sturdy piece of cardboard that was the back of a blister pack from a toy.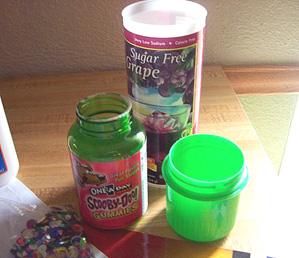 We cut the cardboard in half and decorated the containers–one with markers, one with reused paper and characters that we cut out of magazines, and one with sequins. Then we glued the containers onto the cardboard with gorilla glue for an extra secure hold.
It was fun to see how the containers we collected were just the right size for colored pencils and crayons and one made a fabulous scissor holder.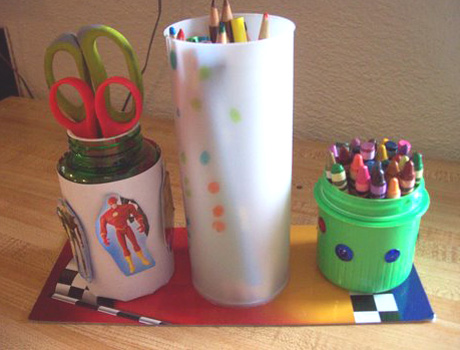 I have yet to read The Boxcar Children and can't wait to start reading it with my 5 year old. Thanks, Kris. For her crafts, she really tries to go along with the theme of her blog, trying to post ideas and commentary on eco-friendly living. Visit Lima Bean Home for more of her creative ideas!
If any of you would like to be a Guest Make and Taker, send me an email at marieATmakeandtakesDOTcom or leave a comment.