When what to my wondering eyes should appear, but a lovely unexpected package sent from Kelly dear!
Yesterday, I opened up the box that came from the UPS guy and was trying to figure out what I had ordered. Then I read the note inside and found this lovely message from a fellow blogger, Kelly (from According to Kelly). It read "Morning sickness can be rough. Here are some fun things to pamper yourself with and make you feel better." Inside was a fun little gift set from Earth Mama Baby Angel. They have fun pampering prego products. For me there was lip balm, Happy Feet foot soak, and Belly Stretch oil. I love it. I am preparing to soak the tootsies as we speak.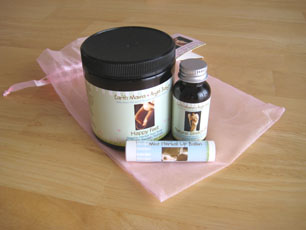 Kelly, you are the best. Thanks for such a sweet gesture and needed relief. You Rock!