After putting on a huge amazing party in NYC for 350 blogging women before the big blogging conference BlogHer, I've learned a thing or two about party planning. This is the second year of SocialLuxe Lounge and I've got a few tips for you if you ever plan to host a party for a large group of people.
Co-host it with good people. I couldn't have planned and executed this amazing event without these two smart women. Allison and Jane were so great to work with, making it all fun and worth it to party! (Thanks to Shabby Apple for our dresses.)
Bring in extra help. We asked a team of blogging friends to help us with our party for the day before and the day of. They opened boxes, filled swag bags, managed the front doors, helped with design, and were absolutely amazing! Cheers to them: Kami, Carina, Melissa, Susan, Jenny, Cora and Alma. (Oh and the bouncers were awesome too.) Thank you, ladies!
Location, location, location. This year, BlogHer was in New York City, so that helped us overall in our planning, as there were a lot of great places to choose from. We found this great kind of swanky venue called the Arena, that was the perfect setting for our party.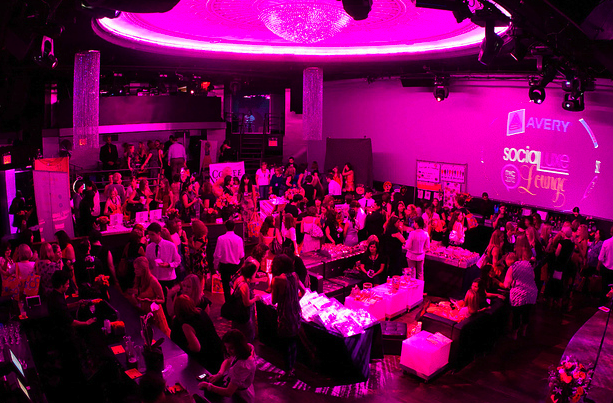 Work with great brands. We were very fortunate to have our party sponsored by some really great brands this year. Avery, the paper company, came in as our title for the Avery SocialLuxe Lounge. They were amazing to work with and had a darling display of their Zazzle binders and labels. They even provided each guest with a little conference survival kit.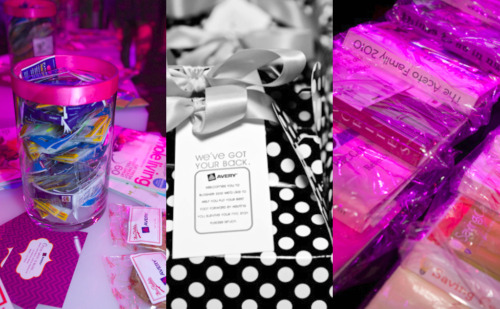 Host an award show. The best and most looked forward to part of our party is the BlogLuxe awards. Starting back months ago, blogs were nominated and voted for. It's so fun to showcase such fabulous blogs and host a fun awards ceremony for them, Oscar style. And we were graced with the lovely Audrey McClelland as our MC.
Invite fabulous guests. Because of the buzz that our party created from last year, when we opened registration this year, our party sold out in 12 minutes!! It was crazy, but oh so fun. Thank you to all of our guests who made it a success.
Send them home with goodies. For taking the time to come to our party, we wanted to thank all of our guests with a bag full of goodies. Each main sponsor provided something fun, as well as a few other fabulous companies. They left with gifts from Skullcandy, Lisa Leonard, Little Alloutte, Moji, 1800Flowers, Foxy Blunt, Peek Kids, Mabel's Labels, Golden Gate Wine Cellar, Mrs. Field's Gifts, PBS Kids, Cambria Cove, Zappos, Mixed Bags and more.
Have you been the host of a party, big or small? What tips and tricks do you have to share to help us all plan a little smoother for next time?
Photo credits: Thanks to all those who brought their camera and took pictures!! Mishelle Lane, Casey Mullins, Kami Bigler, Julie Dance, Melissa Esplin, She Posts, Jenny Eckton – SocialLuxe Loung on Flickr