Through blogging, I've been so fortunate to meet some fabulously creative people. Whether it's crafts, food, design, art, or writing, this world is full of so many great people with so many great ideas. I've recently received a few goodies in my mail from said creative blogging friends. I'm happy to share their amazing talents and projects with you, catching my eye this holiday season.
Caravan Shoppe Toys: This darling toy shop comes from the design team of OllieBird and Fifth and Hazel. They have gorgeous design skills and have put them together to create beautiful simple toys for children. Pictured below are the mini folk, which travels with you so easily. They also have such cute OlliBots and OlliBlocks, as well as stationary and wall art. Check them out for the holidays.
Nom Nom Paleo Cookbook: I have been eating paleo (off and on) for almost 2 years. I'm sure you've heard the buzz and thought about joining the paleo train too, and I highly suggest you do. When I'm 100% paleo, I feel so good and healthy. But it can be a little tricky to find meals that will work for me and my family, as eating paleo does take some thought and prep. In comes the ever amazing Michelle of Nom Nom Paleo, along with her husband, Henry aka FitBomb, and their fabulous new cookbook. I make her paleo mayo, pictured below, and it's amazingly easy and delicious! They also have an ebook for your iPad that I recommend. Check them out and get cooking!
Secret Agent Josephine in Paris: I've been craft blog friends with Brenda of Secret Agent Jo for a long time. I'm so happy to share her book for a darling and daring adventure with Mom and daughter craft team, solving a creative mystery. Really, this book is adorable. My little Lucy and I love to read it. And we might just have to take a trip to Paris together, check out some of these craft shops in the book! Check it out for your little crafty one.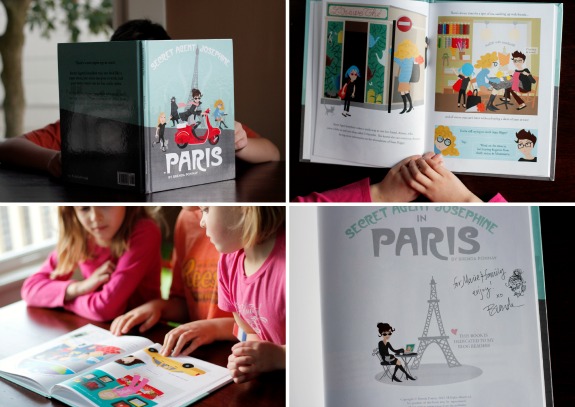 What fun finds are catching your eye this holiday season? I'm also sharing my top 10 favorite gifts I received as a child for Christmas over at Babble. Were some of these toys your favorites too?