This is one of those horrifying moments in parenthood. I've tried and succeeded before to stop my little darling baby from pooping in the tub, but yesterday I failed. EWWWWW!! My daughter (20 months) is playing in the tub. I'm in front of the sink putting on mascara (a feat in itself). When I hear an "uggg" sound coming from the tub, the sound that she makes when she's pushing out poo!!!!!! NOOOO, I scream and rush over and plop. NOOOO, then comes the second one. AHHHH!! I snag her out of the tub onto a towel, and try to quickly get all the toys out (now in the garbage). I finish her up in my bathroom, let her go play, and get out my bottle of Clorox. Please tell me I'm not alone in this moment!
So as bath time is on the brain, I recently made these Tub Time Towel Puppets for my kids to play with in the tub. I'm dedicating them to my little girl (you silly baby, how can I be mad when you're darling and not toilet trained.)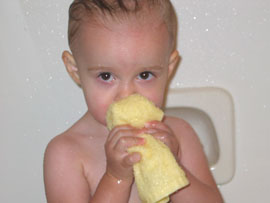 For the Hand Puppet, I just bought a $1 hand towel (not wash cloth, it's not big enough) at Walmart. I chose to do yellow for a ducky color. You could use a print or find a Character towel. Then I cut it in thirds, then made a 3 inch cut on one side. It measures 13×9 inches. You can make 3 out of each towel.
I chose to sew on a little face to the puppet, you can leave it blank. I did a zig zag orange ducky face on one, and a monster face on the other. I can really only sew in straight lines, so this face became a monster!!
I also added ears to the monster (not that great, see you don't have to sew great to make a cute thing). I sewed around the square and pinned it to the right side of the puppet so that when I turn it inside out, it will be there and not on the inside of the puppet.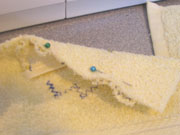 Then I fold it in half, right side together and stitch up the side and top. Then turn it right side out and you get a cute little Tub Time Towel Puppet.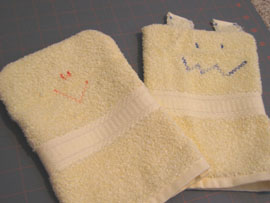 Have fun sewing, but keep a diaper near by for the close-encounters of Tub Time.