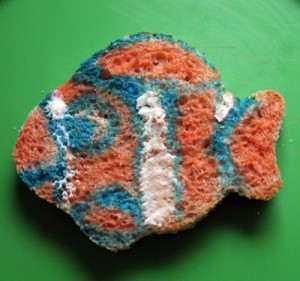 Did you know you can paint bread and then toast it into a colorful, edible piece of art? Yep, it's true. I learned it here. Combine bread cut out with cookie cutters with a bit of edible paint, and art time collides with snack time in a really fun way. Kids of all ages will be fascinated by painting their bread and then eating it. This is a great interactive snack idea to involve your kids in (even toddlers love to paint)! It's also SUPER easy and quick to clean up.
To make the paint:
Mix a tablespoon of milk with food coloring to achieve desired shade. I poured milk in a little cup, squeezed food coloring onto a paint brush and mixed it right in that way, with the brush – sooo easy to make and clean up.
If you're concerned about your toddler spilling this milk paint, use yogurt or pudding as paint instead.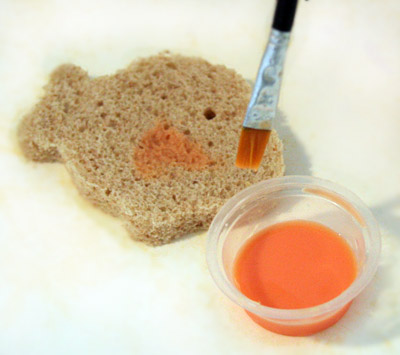 Three Easy Steps to Painted Toast:
Cut out bread with cookie cutter (or leave uncut and just paint slices of bread – would be fun for surprise school lunch sandwich messages).
Paint bread with brush.
Toast in toaster.
I smeared cream cheese for Nemo's stripes on this example.
Use this technique for making toasted cheese sandwiches, too!
Heather Mann is a regular contributor at Make and Takes. She's is the mother of two boys under age 3, and another boy on the way. She publishes Dollar Store Crafts, a daily blog devoted to hip crafting at dollar store prices, CROQ Zine, a print magazine devoted to hip crafting, and also CraftFail, a community blog that encourages crafters to share their not-so-successful craft attempts.