This Saturday, September 24th, is the Worldwide Day of Play, where we are encouraged to get outside and simply play. I'm a huge advocate of play, how we can promote it and encourage it. So I was happy to hear that GoGo squeeZ, an M&T Sponsor, is on the bandwagon for play, encouraging everyone to get involved.
In honor of this Saturday, here are 10 activities to get you ready to play: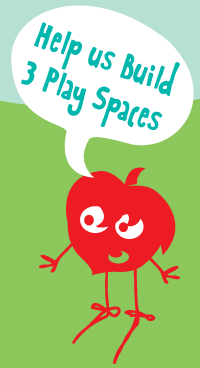 To help celebrate the Worldwide Day of Play, GoGo squeeZ has pledged to help build playgrounds, encouraging everyone to play. Here's a little more about how you can help GoGo squeeZ along with their playground pledge:
"In celebration of the 8th annual WWDOP, GoGo squeeZ wants everyone to get outside and enjoy some GoGo Time—simply good, active fun—next Saturday, September 24. GoGo squeeZ is committed to providing kids with opportunities to live an active life, and has made this possible with the creation of the GoGo Gang, a nationwide brigade of parents and kids that are dedicated to getting a daily dose of GoGo Time. When the GoGo Gang is 100,000 members strong, GoGo squeeZ will team up for Action for Healthy Kids to renovate a play space  in an under-served community, making it easy and fun for children in the area to get their GoGo Time.  When membership reaches 250,000, GoGo squeeZ will build playgrounds in two more communities."
I'm happy to also share that Story Bleed, a place where you can discover yourself where the lines between our stories bleed together, is hosting a fun blog carnival all about this day of play. Be sure to share a link to your nostalgic story of play and photo posted on your blog (be sure to link back to the #GoGoDayOfPlay writing challenge/ blog carnival!)
So how are you planning to celebrate on Saturday? Will you be at the live WWDOP events? Or simply in the backyard, down at the beach, or on a hike through the woods? What's your favorite way to play?