I live for the day when the grocery store begins to sell Pumpkins. I buy one and cut it open right away, just to make Roasted Pumpkin Seeds. That poor pumpkin never makes it to Halloween, as I cut it open too early, but I love the seeds too much to care.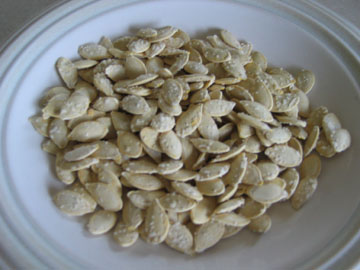 Cut open the top of the pumpkin, scoop out the seeds. Rinse the seeds and drain the water. Pour them onto a pan. Sprinkle them all over with salt, I make sure every seed has salt. Then place them in a 250° oven. I check them and rotate them 3 times for 20 minutes each. Then place into a bowl.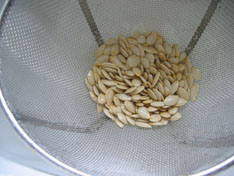 The sad part about pumpkin seeds is, you go to a lot of work getting every single seed out of the pumpkin, but it doesn't look like much when your are done. They are a super tasty snack though and worth all my trouble. Here are some other recipes for flavored pumpkin seeds.
Also this year, I did save the pumpkin I used to cut up for seeds. I roasted it right along with the seeds. I scooped away all the stringy pulp, peeled the pumpkin skin with a peeler, then sliced the pumpkin into strips. I coated them with olive oil, salt and pepper. Then stuck it in the oven right below the seeds. It cooked and softened at the same temp and time as the seeds. Then I cut the pumpkin into chunks and ate it in with the Creamy Pumpkin Pasta recipe. Yum and no waste.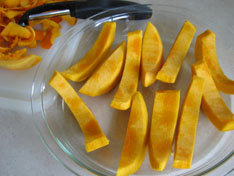 What are your favorite things to do with pumpkins?