Thanks to the folks at Martha Stewart and Plaid, who've teamed up to create a power pack of decorative paint and supplies, I received a fun box full of supplies. Right away I headed for these circle sponge stamps, endless possibilities with these sponges, I'm sure you'll be seeing more crafts from these. Today I stamped up these fun apple-shaped stamped cards. They are perfect for a back to school gift for teacher, especially with one of these free back to school printables.
Apple Sponge Stamped Cards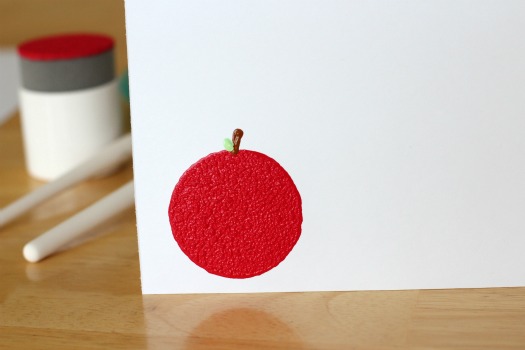 Supplies:
circle sponge brush, straight paint brush
red, brown and green craft paint
card stock paper
plate
optional: cellophane bag, ribbon, tag
1. Cut your paper in half for 2 folded cards. You can cut it horizontally or vertically, right in half. Then fold them over and press to crease.
2. Add red paint to a plate and press your circle sponge into the paint. Press the painted sponge onto your card. I placed my red circle in the bottom corner to give it a decorative look. And the sponge creates bubbles on the paper, which I think gives it a fun texture.
3. With a small paint brush, add a brown stem and a green leaf of paint. Then you'll need to let these cards dry completely.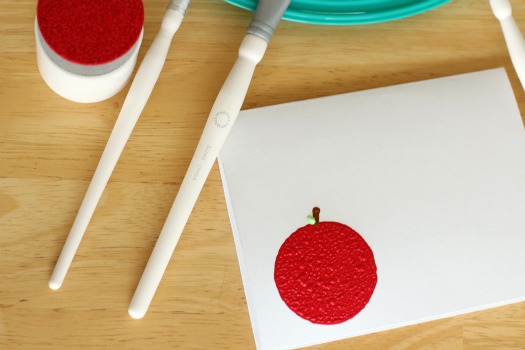 4. Create 5-6 cards per teacher, adding in envelopes as well.
5. Download and print out the free back to school printable tag to attach to the gift.
6. Place your cards into a cellophane bag, wrap with ribbon and attach the gift tag.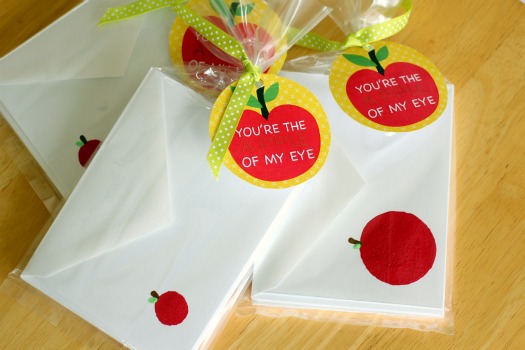 Now it's ready for the first day of school, or really any time of the year!
More fun painting crafts:
Make sure you head on over to your local Michael's Crafts to find these paints, tools, and other cool stencils!
*Full disclosure here