Bake up a sweet bread Christmas wreath and candy cane treat during the holiday season. These bread wreaths and candy canes are the perfect gift for neighbors and friends for the holidays as well!
These Christmas wreaths were one of my favorite to make around Christmastime. I used to make these with my mother when I was growing up. My mom would make the yummy bread dough from scratch, along with the sweet frosting. But time seems to be limited this Christmas season, so I have made mine a little easier using either frozen bread dough or bread in a can!
They would be the special treat I got to give to my friends at Christmas. They are simple and fun to make, and very festive. These sweet bread trees, wreaths, and candy canes will be a hit with neighbors this year.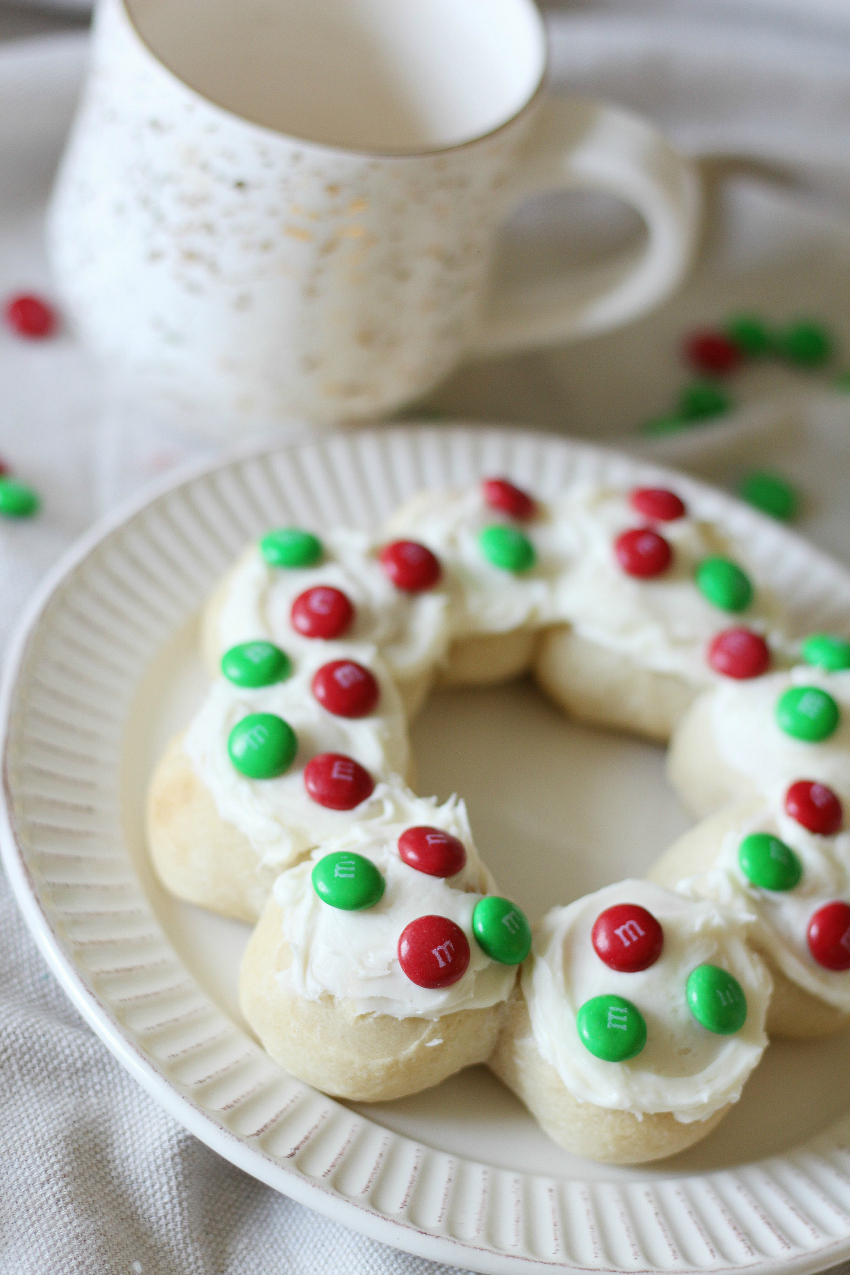 Baking a Christmas Wreath
Watch our how-to video: 
Ingredients:
bread dough – homemade, frozen, or bread from a can
vanilla frosting
red and green chocolate candies – m&ms work great!
Method:
1. Divide the dough up and roll them into tiny balls. Make these any size, but remember they get much bigger when they raise and are baked.
2. Shape them into holiday designs. We made large and small Christmas trees, candy canes, and wreaths. I even did an S for Santa so he could eat something yummy when he comes down the chimney.
Homemade or frozen bread dough: let the bread rise before placing in the oven. Once they are double in size, bake them using the directions of your bread dough recipe.
Bread from a can: no need to let the dough rise, simply pop them in the oven and bake according to your packages directions.
3. Bake your bread creations according to your bread recipe instructions. Once baked, let them cool completely.
4. Spread your frosting on top of the baked bread. Make sure to get the frosting into the nooks and crannies of the bread.
5. Now the best part, decorating! Place m&m's into the nooks and dips of the bread. For the tree, they will help make it look like ornaments. For the wreath they are the berries! Add sprinkles as well if desired.
Have fun being creative this holiday season!
Pin this post for later: