With school around the corner, we're getting busy prepping for the first day of school. I'm already anticipating the craziness of the start of the school year, so I'm getting ready with a few after-school snack ideas we can make for when they get home and are hungry. These banana hazelnut burritos are easy to make for after-school and my kids love them!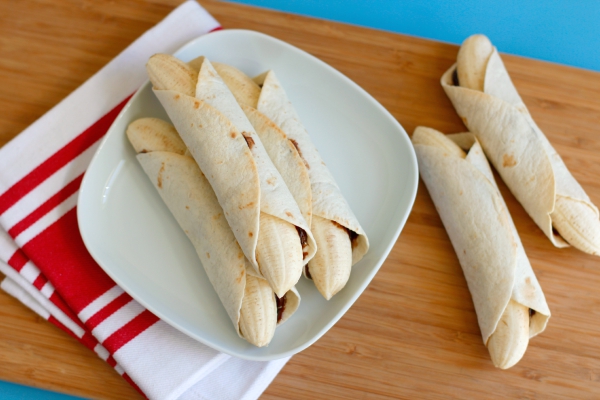 Banana Hazelnut Burritos for an After-School Snack
I'm happy to be partnering with Old El Paso in bringing you a super easy snack for busy families, especially now that it's back to school. Head over to your local Safeway or Albertsons to find Old El Paso fixin's for your family. They have all kinds of ingredients to make a quick and easy meal. You're going to love these Easy Chicken Enchiladas we've shared before that are a big family favorite as well!
Let's get snacking. Wrap these banana burritos up and serve them while homework is getting done!
Banana Hazelnut Burritos Recipe
Ingredients: 
Old El Paso flour tortillas – I love the small tortilla size from the taco dinner kit
6 small bananas
hazelnut spread, or peanut butter would work great too!
Method
Add hazelnut spread to the center of the tortilla, leaving 1/2 inch around the edge.
Place the banana in the middle of the tortilla. Straighten the banana just a bit to help the tortilla close around it.
Add a little drop of hazelnut spread onto one side of the tortilla. Wrap the tortilla around the banana and use the little drop of spread to help "seal" the tortilla closed.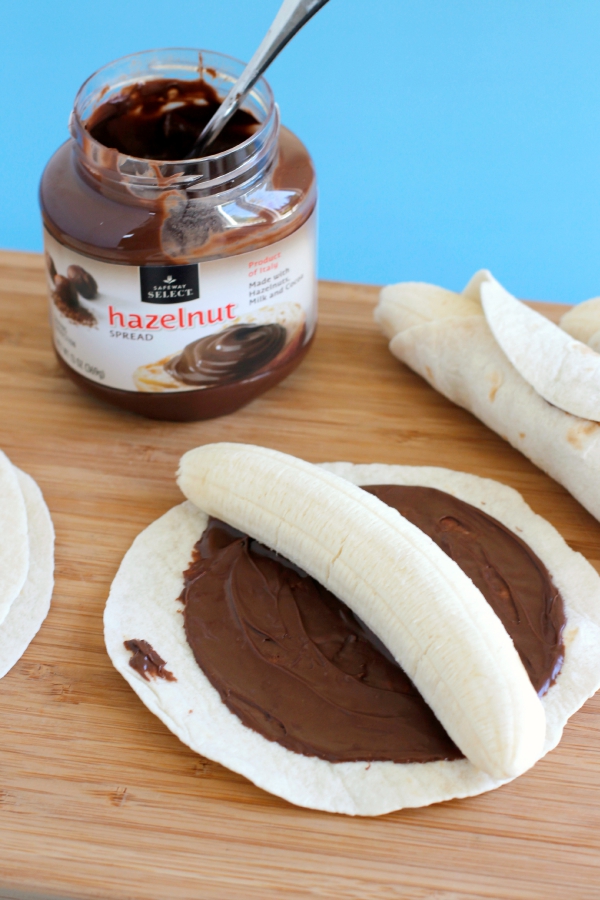 You can eat these as is, but we like ours a little toasted. Place your banana burritos into a toaster oven for 3-4 minutes until slightly golden and crispy. You can also grill them on your BBQ for 3-4 minutes or place them in your oven and bake at 350 for 4-5 minutes.
Remove burritos carefully from the oven, they will be hot and a bit melted. Place them on a cooling rack for a couple of minutes until ready to eat!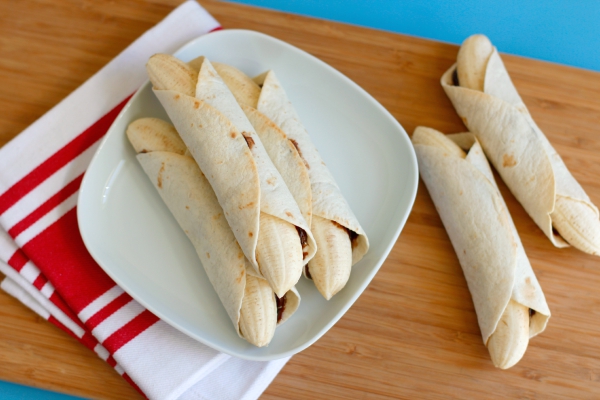 Be sure to use up the second half of your taco dinner kit for a "Taco Dinner Bar" using your choice of meat, cheese, lettuce and salsa. You'll have crunchy tacos for dinner and soft tortillas for dessert, all in a flash!
Be sure to find and clip the Box Tops found on your Old El Paso packaging, and on other General Mills products, to earn 10 cents each for their schools. (Only Box Tops For Education registered schools can redeem Box Tops. Each Box Top is worth 10 cents to redeeming school. Limit $20,000 per school, per school year for Box Tops redeemed through the Clip Program. See www.boxtops4education.com for program details.)
Old El Paso products, found at your local Albertsons Safeway store, are an easy weeknight meal solution. Shoppers can clip the Box Tops found on the Old El Paso packaging, and on other General Mills products, to earn 10 cents each for their schools through the Box Tops for Education program.
*This is a sponsored conversation written by me on behalf of Albertsons Safeway and Old El Paso. The opinions and text are all mine.
SaveSave