I've been growing Basil in the garden for one purpose, Pesto! With only 4 ingredients, this yummy green sauce is so easy to make. It goes great with pasta, pizza, sandwiches, and is perfect as a dip for a crusty bread. I could probably eat it for every meal, it's that good.
I've been excited to make my own pesto by harvesting my basil plant, which has come in really well. Basil is easy to grow and lots cheaper to grow on your own than buy in the store.
Recipe for Basil Pesto:
1 1/2 cup Basil – before chopping
3 Tablespoons Pine Nuts
1/3 cup Parmesan Cheese
1/2 cup Extra Virgin Olive Oil
Dash of Garlic Salt – optional
There are lots of recipes for pesto and with all kinds of ingredients. I took a couple recipes and made my own very basic pesto. This recipe makes one cup of prepared pesto.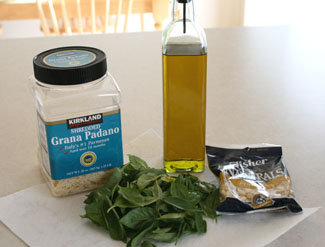 You will need a food chopper of some sort, even a grinding blender should work. I use this mini food processor, it's small but does the job. For Christmas, I'm finally putting a Food Processor on my list! Add your basil and chop, then your pine nuts, chop. Add Parmesan cheese, dash of garlic and your olive oil, and blend until pureed.
You can have it as chunky or smooth as you like. This was all that my chopper can do, perfect to top on my bread.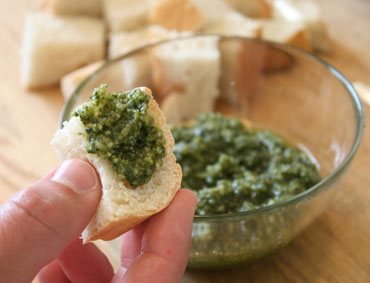 Or maybe you want to top it on a Tortilla Pizza! Soooo good.
Here are a few other recipes using Pesto. How do you eat your pesto?
Want to know how to get 50-70% off your fancy blender? Check out Blendfresh! When you sign up you get big discounts on Blendtec appliances and these really yummy fresh dried fruits and vegetables to use in your smoothies and baking!