I worked at Tony Roma's when this song came out and we all sang it in the back kitchen. I don't think the managers liked that. This job is where I learned to loooooove pork ribs. The cook would give me the extra little bits that they couldn't serve to the guests, so ate them up. I love to get messy when I eat them, using a wet nap and floss to get clean. I loved it when we would offer the customer the plastic bibs to wear and they did, those are real rib troopers.
I have been intimidated to cook ribs at home. BBQ cooks talk about slow and steady, or just the right sauce. But I decided to give it a try anyway, as they are cheaper to cook myself than to order at Tony's.
I bought a $7 package of pork ribs, I don't think they were "baby" back. The package I bought came pre-cut into 3-4 bone sections, much cleaner for me than the big slab. Then I layed them in foil and salt and peppered them all over. I closed up the foil to seal them completely and laid them on a rack on a jelly roll pan, also lined with foil (for later).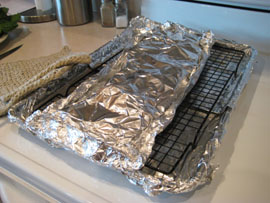 I placed them in a pre-heated oven at 400° for 1 1/2 hours. Take them out of the oven and take off the foil that seals it.
I laid them back on the rack and spread BBQ sauce all over. We like Famous Dave's BBQ sauce, but any should do. Then place them back in the oven on Broil for 3-4 minutes per side. You could do this part on the outside grill, but it is too cold for me.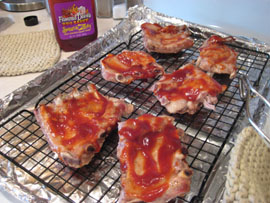 Pull them out and let them sit for 5 minutes. Offer a little more BBQ sauce in a side dish for extra messiness. Mmm Mmm Good. I am sure there is a great slow cooker recipe out there too, super easy. Give it a try.