It's too hot to turn on the stove or oven. So we've been eating a lot of salad this summer. This one is one that my husband and oldest daughter really love — Antipasto Salad.
Beat the Heat with Antipasto Salad
We've enjoyed antipasto platters at various restaurants.  Every corner pizza parlor or deli in our neighborhood in New York had their own version of an Antipasto Salad.  This is our version.
When I sent my husband to work with a home lunch, I would often pack this salad with an easy balsamic vinegar and oil dressing, and if he was lucky, a piece or two of crusty bread. It soon became his very favorite thing to take for lunch.
Now I make it for lunch or dinner.  It's full of satisfying flavor components.  No one will complain they're still hungry after eating a plate full.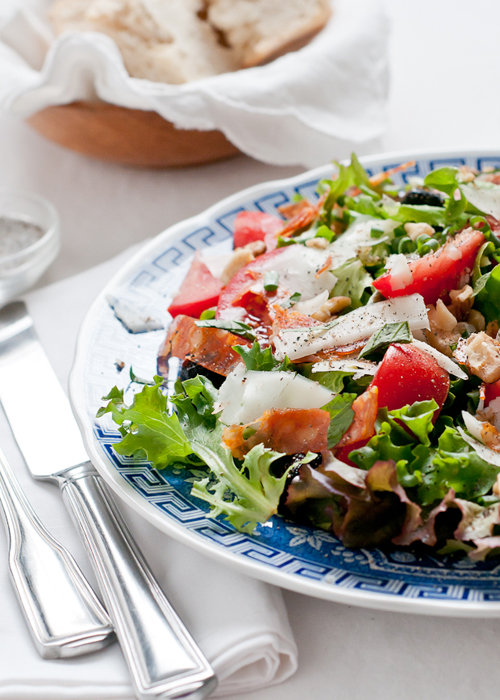 Antipasto Salad
We change it up a bit according to what we have on hand, but the basic salad stays the same.  I love to make it with marinated artichoke hearts, fresh cucumbers  and roasted red peppers, which aren't included in the salad pictured. Sometimes I toss some sliced mushrooms on there too. It really is just kind of whatever yummy things you have in the fridge or cupboard.
Ingredients:
about 10 oz. organic baby salad greens, washed and spun dry
1/2 lb. soppresata or calabrese (pepperoni or other similar cured meat), cut into thin strips
4 oz. Pecorino-Romano or Parmigiano, shaved, or crumbled feta cheese (can also use something mild like provolone or mozzarella)
2-3 tomatoes, sliced (or about 1/2 cup sun-dried tomatoes)
1/2 to 1 cup oil-cured or brine-cured olives (such as kalamata)
handful fresh basil leaves, thinly sliced
3-4 green onions, green and white parts, thinly sliced
Other additions:
seedless cucumber, thinly sliced
fresh or roasted red pepper strips
thinly sliced red onion (in place of the green onions)
sliced mushrooms (we like baby portobello)
roughly chopped marinated artichoke hearts (drain first)
For dressing:
1/4 cup balsamic vinegar
1/2 cup extra virgin olive oil
salt and pepper, to taste
pinch of sugar
*enough for about 4 good-sized salads
Method:
Place salad greens on individual plates or a large serving platter/bowl. Arrange the salad toppings on the greens, finishing with the basil and green onions.
Place balsamic vinegar, salt, pepper, and pinch of sugar into a small jar.  Shake to dissolve salt and sugar.  Add the oil, replace lid, and shake vigorously until thick.
Serve dressing on the side.
SaveSaveSaveSaveSav