I scored a fantastic deal on some dried blueberries a few months ago. I bought a bunch to eat on cereal and salads. But what I really wanted to make with them was cookies. There's a cake we like that combines blueberries, lemon and white chocolate together in a magical way. These are the cream cookie version of that cake.
Blueberries n' Cream Cookies
I also wanted to share a few quick tips for cookie making:
If you find that your cookies are spreading too much, like the cookie on the left in the picture below, add more flour to the dough. Both cookies were made with the same exact amount of dough. If you prefer thinner, crispier cookies. Then use a little less flour. Cookies will also spread more if the butter is too soft when you begin mixing the dough, or if your kitchen is too hot. To remedy that, chill the dough in the fridge for about 30 minutes to firm it up, conversely you could form the dough into balls and then chill or freeze them until you're ready to bake them.  Another little trick is to lower your oven to 325 degrees F. and the cookies will also spread less.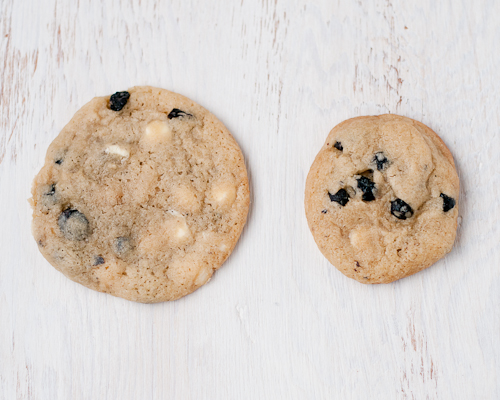 Sometimes dried fruit gets a little too dried out. Here's another quick tip–soak the fruit in hot water before using them in the recipe. I did that with these blueberries because I wanted them to be plump and juicy. Allow them to soak for about 10 minutes or so and drain well before using them.
Now go make some blueberries n' cream cookies!
Blueberries n' Cream Cookies
Ingredients:
1 cup (8 oz.) butter, at room temperature
1 cup brown sugar
1/2 cup white sugar
1 large egg
juice and finely grated zest of 1 large lemon
1 tsp. vanilla extract
2 3/4 to 3 cups flour (use less for thinner, crispier cookies)
1 tsp. baking soda
1/2 tsp. salt
1-2 cups white chocolate chips
1 cup dried blueberries (soaked in hot water and drained well before using)
Method:
Preheat oven to 350 degrees F.  Line two baking sheets with silicone baking mats or parchment paper, or grease well.
Whisk the flour, baking soda, and salt together and set aside.  Cream butter and sugars until fluffy with an electric mixer.  Add the egg, lemon juice and zest and vanilla extract and beat until combined.  Add the dry ingredients in two or three additions, mixing just until the flour is incorporated.   With the mixer on low, or by hand using a large wooden spoon, stir in the white chocolate chips and blueberries.
Form the dough into balls about 1″ in diameter and place on the prepared cookie sheets, leaving about 1 1/2-2″ of space between the cookies.   Bake for 10-12 minutes, rotating cookie sheets halfway through baking time.  Let cool on baking sheets for a few minutes before transferring to cooling racks.
Yields:  about 3 dozen cream cookies
Variations:
Use freeze dried strawberries, raspberries, or peaches, or diced dried apricots in place of the blueberries, or with them.
Omit the blueberries, and use dried pineapple and 1/2 cup toasted coconut and 1/2 cup chopped macadamia nuts.
Omit blueberries and use dried cherries and pecans with the white chocolate chips or use dark chocolate chips instead.
SaveSaveSaveSaveSaveSaveSaveSave