Guest post by Ariela of Sweet Happy Life
When my son was a baby he loved butternut squash. In fact, he liked it so much that during one check-up our doctor was all: "Does he eat a lot of squash? Because he's starting to turn orange."
Flash forward 16 months and do you think he still adores squash? Nope. The baby who ate everything is now a proud member of the picky eaters club. Luckily, I've come up with a few ways to get him to eat his veggies. Among them, puff pastry vehicles.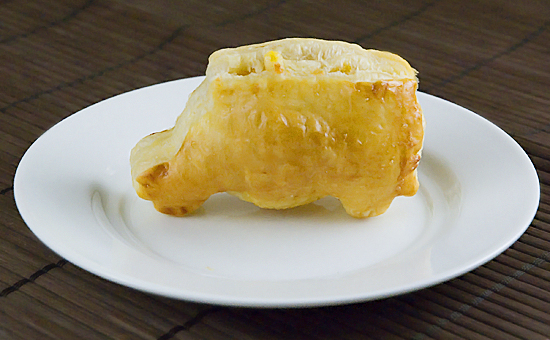 Puff pastry is easy to work with and can be made into all sorts of fun shapes filled with things like butternut squash, spinach or sweet potato. The little truck you see above is filled with butternut squash, sautéed onion and mozzarella cheese. Forming the shape was as easy as using a standard sized cookie cutter.
How does Mr. Picky Eater like these? He gobbles them up – after each truck has taken a drive around his plate, of course. I usually serve one or two of these at snack time or as a side dish, maybe with a forest of "broccoli trees" for his truck to drive though. Hey, whatever works!
Butternut Squash Puff Pastry Trucks
1 medium butternut squash, halved and seeded (1 ½ cups)
1/3 cup yellow onion, diced
1 tablespoon butter
Pinch of salt, to taste
½ teaspoon dry sage
1 egg white
2 teaspoons water
½ – ¾ cup shredded mozzarella
4 thawed puff pastry sheets (2 packages)
Roast the Squash
Preheat your oven to 425 degrees F.
Cut off the ends of your squash, slice it in half and seed it. Place it on a large cookie sheet and roast for 60-90 min (time will vary according to the size of your squash). The squash is done when the flesh is easily pierced with a fork and it has started to caramelize a bit around the edges.
Set aside to cool for 15 minutes, then scoop out the flesh. You will need 1 ½ cups for the filling.
Make the Filling
Melt the butter in a medium-sized pan, then cook the onions over medium heat, stirring frequently, for 5 minutes or until they start to soften and have a bit of color. Add a pinch of salt, the sage and the butternut squash. Mix well, smashing any large pieces of squash so that you have a roughly uniform filling. Set aside.
Fill Your Shapes & Bake
Preheat your oven to 400 degrees F. Line a cookie sheet with parchment paper.
Whisk together the egg white and 2 teaspoons of water to make a simple egg wash.
Roll out a thawed puff pastry sheet to 12 inches square, then cut it in half with a pizza wheel or sharp knife to form two rectangles. Cover puff pastry sheets you aren't using with a clean towel or plastic wrap.
On the first rectangle, use your cookie cutter to figure out how many shapes you'll be able to make. I can usually get 3 trucks per rectangle, so we'll go with that number.
Spoon 1 to 1 ½ teaspoons of filling into 3 mounds spaced evenly apart. You can use your cookie cutter to measure how big your mounds should be and how far apart, as shown above. Make sure there is room on either side of the filling. Top with a pinch of cheese, about 1 teaspoon.
Brush the exposed puff pastry with egg wash, then cover with the other puff pastry rectangle. Press gently around each mound to seal the two sheets together.
Cut out your vehicles or other shapes with a cookie cutter. Press down hard and wiggle the cutter a bit to make sure the shapes cut all the way through. Transfer to the prepared baking sheet and repeat the process until all your shapes are on the cookie sheet.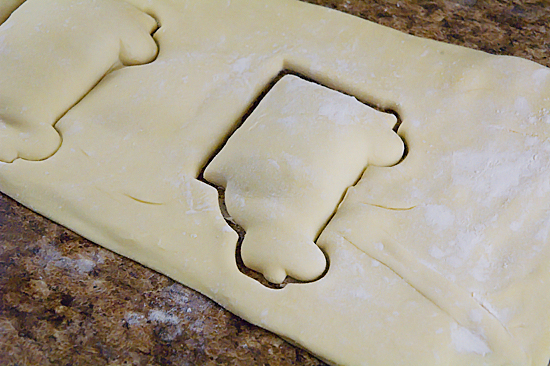 Gently crimp around the edges of each vehicle with the tines of a fork.
(If you are freezing your pastries, at this point place the cookie sheet in your freezer and allow the pastries to freeze for 15-20 minutes or until hard. Transfer to a freezer safe Ziploc bag and store for up to one month.)
Brush the tops of the pastries with egg wash.
Bake fresh pastries for 15 minutes and frozen pastries for 20-25 minutes. The pastries are done when golden. Allow to cool for 10 minutes before serving.
Ariela Pelaia is a freelance web designer and writer who works at home while taking care of her little boy, a.k.a. The Munchkin. She enjoys cooking, baking and spending time outdoors. You can find her recipes and toddler activity ideas at Sweet Happy Life.
SaveSaveSaveSaveSaveSave