We love the outdoors, sleeping in tents, and cooking up yummy camp food! Planning meals for camping can be a bit tricky, especially with kids. So I like to make it as easy as possible while still eating something really yummy. Chili is the perfect meal for camping to serve up our family chili, turkey-style. It's a quick meal to make ahead of time and reheat on the camp stove outdoors.
I promise, this recipe for Camper's Turkey Chili is a camping crowd pleaser for any Turketarian!
Recipe for Turkey Chili:
1 lb. ground turkey
1 tablespoon cooking oil
1 packet chili seasoning
1 14.5 oz can corn
1 or 2 14.5 oz cans of pinto beans
1 14.5 oz can stewed tomatoes
1 4 oz can diced green chilies
optional topping: corn chips and shredded cheese
Method:
In a large saucepan, add in your oil over medium heat. Add in your ground turkey and chili seasoning. Cook until the turkey is cooked all the way through, stirring often.
Once your turkey is ready, add in all the other ingredients: corn, beans, chilies, tomatoes. You can drain your cans of beans and corn before or add in the liquid to the pan. It just depends if you want it soupy or more thick.
Stir up all the ingredients and let it all simmer for 5-8 minutes. Serve.
Yield: 4-6 servings
NOTE: If you're eating this at home, it's ready to serve. Just add some chips and cheese for topping. But if you're eating this on your camping trip, take the pan off the heat and let it cool. Add your chili to a plastic container or zip bag and place it in the fridge. You can even freeze this as well, to help keep it cold as you transport it into your camping cooler.
This turkey chili is ready to reheat and serve to hungry campers. Empty your chili into a pan on the camping stove and place on medium heat, stirring often. Once the chili is at your desired temperature, it's ready to serve and eat.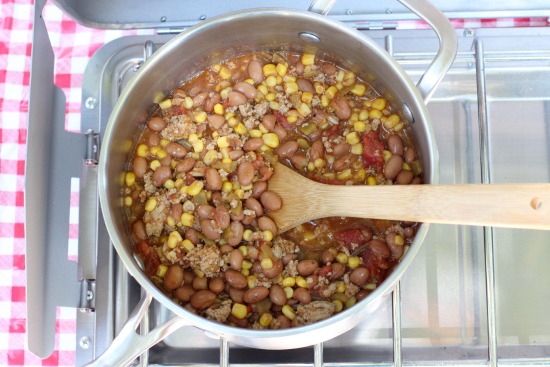 Add a few chips and some shredded cheese for topping, making the meal complete. It will be the hit of the weekend… so easy, so good! Although, be sure to save a little room for a few s'mores for dessert!
**This post was sponsored by Butterball. The chili recipe and camping meal ideas are my own.