On this Veteran's Day, I asked a couple of M&T readers to share a fun crafty collage about someone who they are celebrating today. They created these collages with items that their loved ones enjoy. This is a great activity anyone can do when they want to honor, remember, and celebrate a loved one.
Celebrating Veteran's Day with a Crafty Collage
From Staci: My dad is overseas. These are a few of his favorite things…my kids (his grandchildren), the Miami Dolphins, Twizzlers and his dog, Baxter. To be quite honest, I think he misses Baxter the most! He's a hard working, fun loving dad! He's proudly doing his service for our country (along with many many others) without asking for recognition. I love him and miss him!
From Shannon: My husband joined the USMC in 2004. We have four children who keep us both busy. We all enjoy playing outside and board games when it is too cold to go out. Our 6 year old son Zack made the collage by finding things he knew his daddy loves.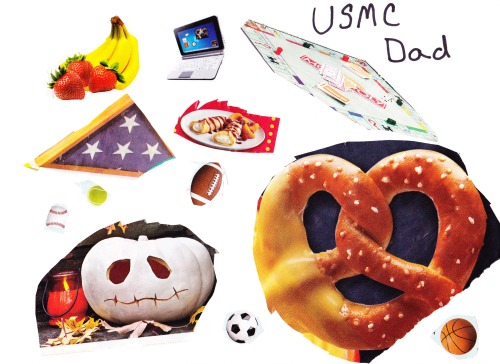 Thank you both for sharing a little of your stories with us.
Another great site that is honoring and remembering people on Veteran's Day is Operation Purple. They are a National Military Family Association and have created a camp for children who have members of their family who are serving in the Military.
The mission of the Operation Purple program is to empower military children and their families to develop and maintain healthy and connected relationships, in spite of the current military environment.
Are you celebrating someone on this Veteran's Day? Share your story with us!
SaveSaveSaveSaveSaveSaveSaveSave