I'm excited to introduce a new contributor to the Make and Takes team… Nina of Ambrosia. Please welcome Nina, sharing all sorts of fun recipes for us to enjoy. Take it away, Nina:

We're officially in the holiday season home stretch…just one more major holiday to go! Some may see this as a good thing, and others don't like to see the holiday season come to an end.  I'm not exactly sure where I fall on the spectrum, because I am a little happy and sad at the same time.  I love the holidays because it gives me a chance to spend lots of time with my family and the opportunity to make and eat delicious food, but the holidays can be stressful at times!  I'm a little excited for life to get back to normal.  Until then though, I'm going to savor what's left of the holidays and start getting ready for New Years!
New Year's is obviously a great occasion to throw party.  Since New Year's is such a special time, it's a great opportunity to really go all out with your party planning to create something festive and memorable.  A great idea would be to have lots of fancy appetizers and hors d'oeuvres to serve along some bubbly champagne.  Even though New Year's is a time to get fancy, it doesn't mean the food you're serving at your party needs to be overly complicated or difficult to prepare. Cheese straws are a great option for an occasion like New Year's.  They're super simple to prepare, and never fail to impress!
Cheese straws are made by sprinkling cheese and other flavorings over puff pastry, then slicing the pastry into strips, twisting them, and baking.  It takes maybe ten minutes at the most to prepare the twists, and can easily be made ahead of time.  The key is to make sure you thaw the frozen puff pastry properly- leaving it overnight in the fridge usually does the trick.  Aside from that, cheese straws are a cinch to make.  Below, I'm offering two easy variations for delicious cheese straws, but you can easily adapt the recipes to suit your own tastes and what you have on hand.  With these cheese straws, you'll have an appetizer that will impress everyone at your New Year's party, and no one needs to know just how quick they were to make.  Happy New Year, everyone!
Cheese Straws, Two Ways!
Ingredients
2 sheets (1 box) frozen puff pastry, thawed according to package directions
1 egg, beaten with 1 tablespoon water
3/4 cup Parmesan cheese, grated
2 1/2 tablespoons fresh chives, chopped
1/2 tablespoon fresh thyme, chopped
3/4 cup mozzarella cheese, grated
crushed red pepper flakes, to taste
1/2 teaspoon dried oregano
Directions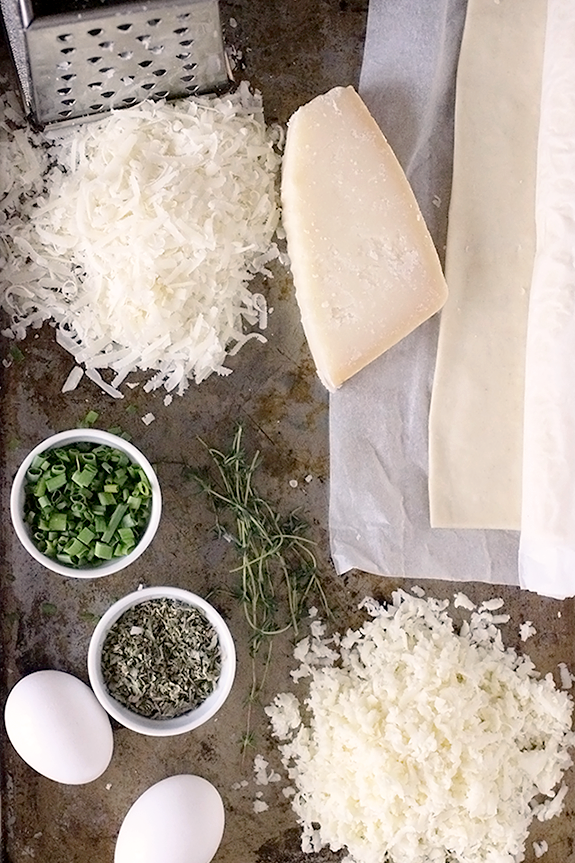 Preheat the oven to 350 degrees F and line baking sheets with parchment paper or silicone liners.
On a lightly floured surface, gently unroll one of the sheets of puff pastry.  With a lightly floured rolling pin, gently roll out the puff pastry until it forms a 10×12-inch rectangle.  Gently brush on the beaten egg with water all over the surface of the puff pastry.  Sprinkle the Parmesan cheese, chives, and thyme over the puff pastry in an even layer.  Using a rolling pin, gently press the cheese and herbs into the puff pastry.  With a floured pizza wheel or knife, cut the puff pastry lengthwise into 12 strips.  Holding each end of a strip, gently twist the puff pastry several times. Place the twists onto the prepared baking sheets, and bake for 15 minutes, until the pastry is golden brown.  Allow the cheese straws to cool before serving.
Repeat with the remaining puff pastry, mozzarella, red pepper flakes, and oregano to make another 12 twists, except bake these for 18-20 minutes.  The mozzarella may begin to ooze out from the pastry twists onto the parchment paper/silicone liner as they bake, but it will turn into a delicious cheesy crisp.  You can simply snip this excess cheese off, or leave it on.  Either way it's delicious!  Enjoy!
Makes 24 cheese straws