Cheesy hot corn dip loaded with bacon is the perfect recipe if you are looking to make a crowd pleaser appetizer, potluck dish, or Superbowl Sunday!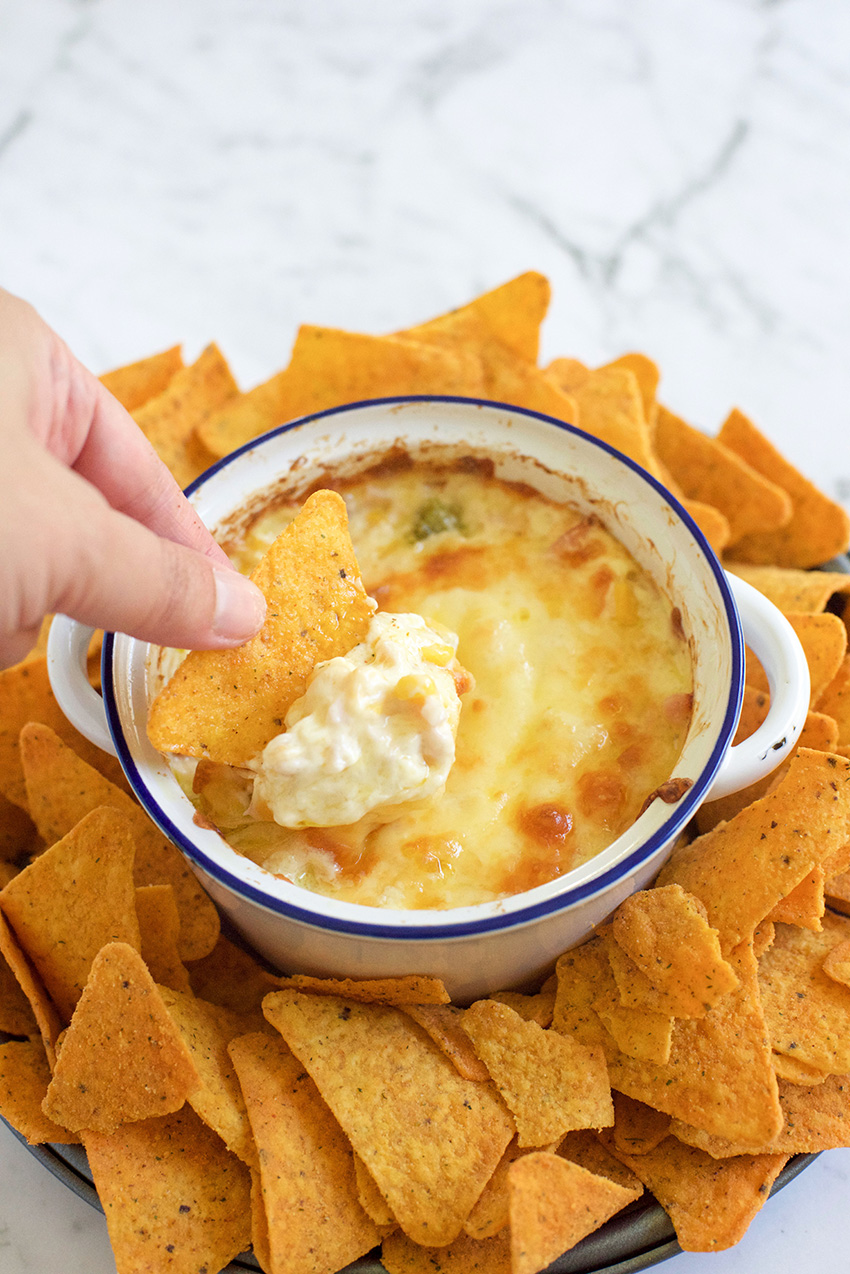 This easy and super delicious hot corn dip will get you covered whether you are throwing a Super Bowl or holiday party or even just a family get together. Everyone will rave about this cheesy make ahead appetizer. Add some Cheesy Baguette Pizza Bites, Shrimp Taco Cups and some Crispy Fried Ravioli served with Marinara Sauce and you'll have a feast!
Cheesy Hot Corn Dip Recipe

MY LATEST VIDEOS
You can prepare and assemble everything ahead of time with a couple of pantry staple ingredients:
canned corn or frozen corn,
cheddar and mozzarella cheese (you can substitute the cheddar cheese with any other proffered type)
cream cheese
bacon
mayo
Prepare an oven safe pan, mix all the ingredients and add them to the casserole dish. Sprinkle some more mozzarella cheese on top and just pop it in the oven with 20 minutes ahead of serving it and you get the cheesiest delicious appetizer ever!
Cheesy Hot Corn Dip Recipe
Ingredients:
2 cans whole kernel corn, drained
1/4 cup mayo
1 cup cream cheese, at room temperature
1 cup cheddar cheese, grated
2 cups mozzarella cheese, grated
8-12 slices bacon, chopped
2-3 spring onions, sliced
salt and pepper
Method:
Preheat the oven to 350F/ 175C.

Grease a 9-inch oven safe skillet or casserole pan.

In a large bowl add drained corn, cream cheese, mayo, bacon, cheddar cheese, mozzarella cheese (save 1/2 cup to add on top of the dip) and spring onions. Stir to fully combine the ingredients. Season mixture with salt and pepper.

Add the mixture to the prepared skillet and distribute evenly, sprinkle remaining 1/2 cup of mozzarella cheese and bake for 20 minutes until bubbly.

Serve the hot corn dip from the oven, after it rests for a couple of minute with tortilla chips or crackers.

Pin this Recipe for Later: