Oh ya, these Chewy Granola Bars are a yummy treat for me and my kids. They are chewy, delicious, and homemade! What a perfect after-school treat you and your kids can munch on. You can also prep these in a to-go container for a road trip or a family hiking day!
Chewy Granola Bars Snack
Chewy Granola Bars Recipe:
2 1/2 c. Oats – quick rolled oats
1/2 c. Rice Crispy Cereal
1/4 c. coconut
1/2 c. chocolate chips or candy coated chocolates
1/2 c. brown sugar
1/2 tsp. salt
1/2 c. butter, softened
1/4 c. honey
1/2 tsp. vanilla
Method:
Add all of the ingredients and mix together until combined. Tip: Spray vegetable spray into the measuring cup before you add a sticky substance, like honey! It should slide right off.
Press into a square 8×8 pan. Bake at 350° for 18-20 minutes.  For thinner bars, press mix into a 9×13 pan. They seem to set a little better in the 9×13 pan.
Cool for 10 minutes and score into bars. Let it set completely and then cut into bars.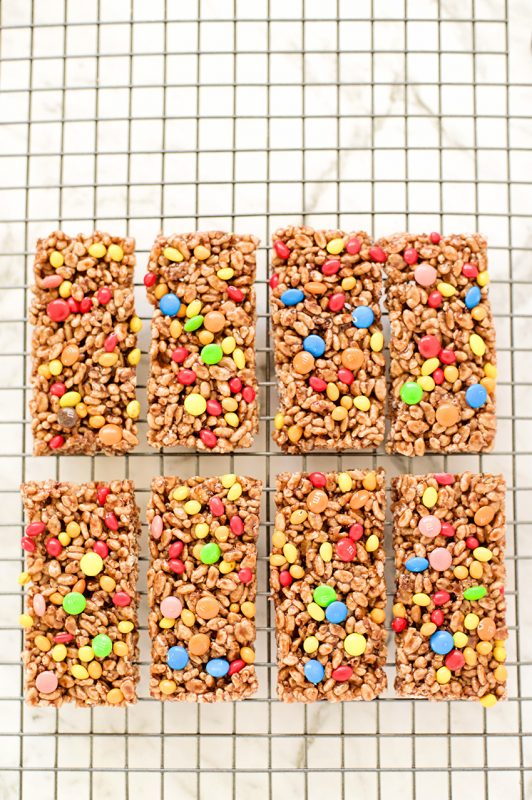 Now you're ready to serve these up. These chewy granola bars will satisfy your sweet tooth and fill up hungry tummies!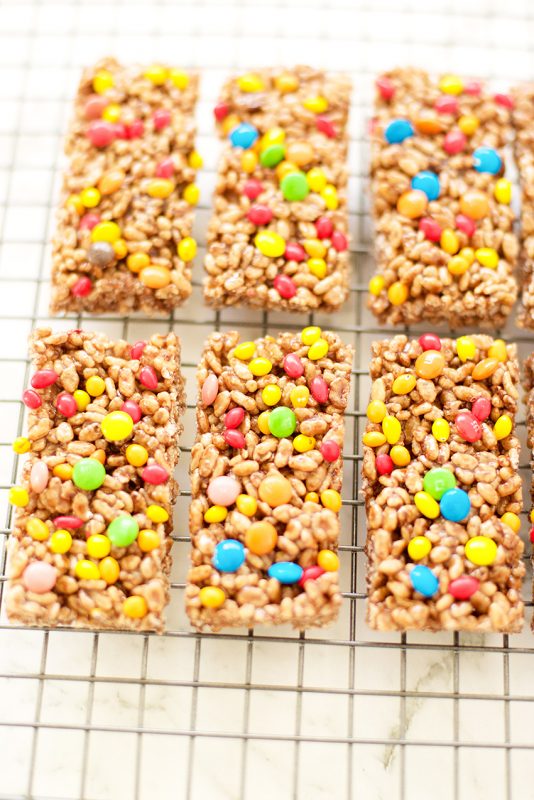 More Granola Snack Ideas:
Go thin: put half the mix in one glass dish and half in another glass dish to they are a little thinner. I think they came together a little better and have more of a bottom crust.
Mix-ins: add more things to the mix like mini M&Ms or peanut butter chips. Even small caramel balls would be delish!
Frosted: once these are cooled, add a layer of frosting to the pan before you cut them into bars. You can use any flavor of frosting, but I bet chocolate could be so good.
Tiny Bites: chop these chewy granola bars up even smaller for a tiny bite-sized piece. Perfect for a party dish or quick snack tray.
Marshmallowed: add a layer of mini marshmallows to the top during the last 5-8 minutes of baking and they will make a super soft topping!
Images via Adore Foods