When I was a kid there were more than a few meals my mom made that I absolutely hated. One that I absolutely loved was her enchilada pie. So, I'm going old school and bringing back Mom's Enchilada Pie. Only this time I'm changing it up a bit.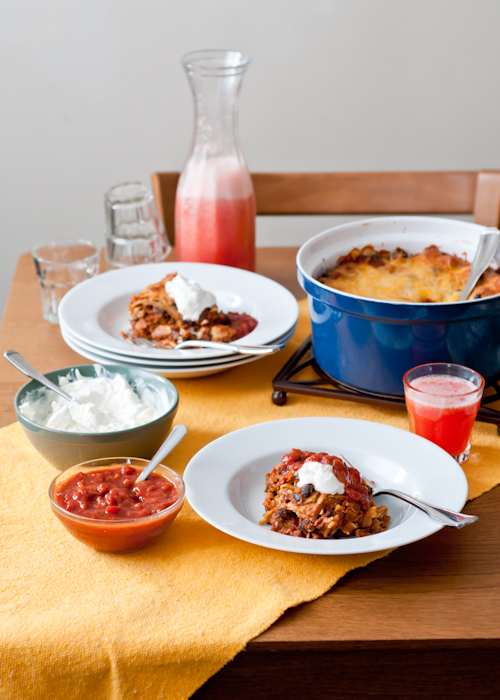 Chicken Black Bean Enchilada Pie
Instead of ground beef, I'm being resourceful and using up leftover chicken and getting some help from a few canned ingredients to help me get dinner on the table quickly, and without much effort. Feel free to substitute your favorite ingredients or leftovers. Using prepared enchilada sauce saves a bunch of time. If you want to make a vegetarian version, use all beans or substitute some chopped veggies for the chicken. (I'm thinking squash or sweet potatoes would be fabulous.)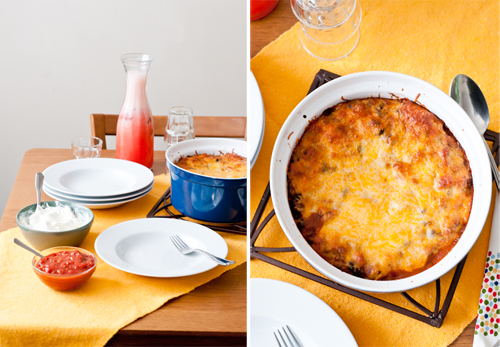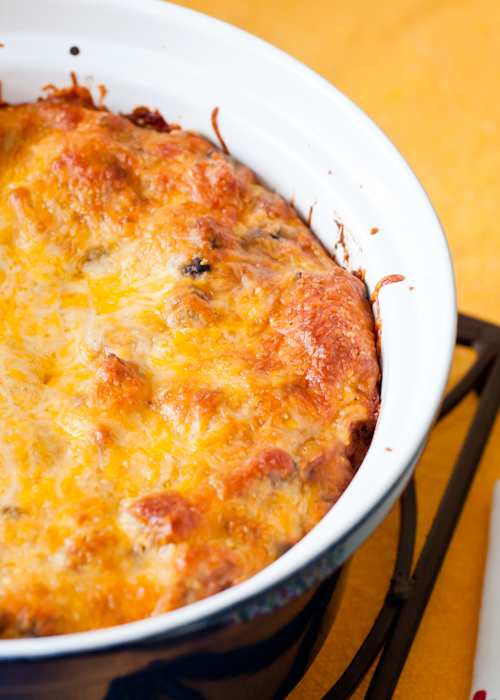 The prep times takes around 2o minutes and it bakes for 35-40 minutes, so in just about an hour you've got yourself one fantastic meal. Don't forget a pitcher of agua fresca to go with dinner!
Chicken Black Bean Enchilada Pie Recipe
Ingredients:
1 Tbsp. canola or olive oil
1 onion, diced
3 garlic cloves, minced
2-3 cups diced or shredded, cooked chicken
1 1/2 cups (1 can) black beans, rinsed and drained
1/2 cup sliced green or black olives (optional)
2 (10 oz.) cans mild red enchilada sauce
1 chipotle chile in adobo sauce, diced or 1 Tbsp. of the adobo sauce (depending on how spicy you want it to be)
12 corn tortillas
3 cups shredded cheese (fiesta blend, cheddar, or Monterey Jack is best)
Salsa and sour cream, for serving
Method:
Preheat oven to 350 degrees F and have a round 3-quart souffle dish or a 9 by 13″ glass pan ready.
Heat oil in a large skillet over medium-high heat. Add the onion and cook until it softens and becomes translucent. Add the garlic and cook for another 30-60 seconds. Add the chicken, beans, sliced olives, enchilada sauce, and chipotle or adobo sauce. Bring to a simmer and cook for about 5-10 minutes, until it has thickened a bit.
Ladle about 1 cup of the sauce into the bottom of the baking dish. Top with three tortillas, tearing or cutting them into pieces to fit evenly in one layer. Top with another heaping 1 cup of the sauce, followed by 1/2 cup of cheese, and another layer of tortillas. Continue layering three more times, ending with the rest of the sauce and cheese as the top-most layer.
Bake for 35-40 minutes, or until bubbly and golden on top. Let cool for a few minutes before cutting into wedges and serving with salsa and a dollop of sour cream.
Makes 8 good-sized servings.