I love a good pita pocket sandwich. But I also love a good chicken caesar salad. So I thought it would be a winning combination to serve them both together, yum! It's perfectly paired with these pita pockets!
Recipe for Chicken Caesar Pita Pockets:
1 cup chicken – cooked and diced
1 head romaine lettuce – sliced
1/4 cup shredded parmesan cheese
3 round pita pockets
yield: 6 pita pockets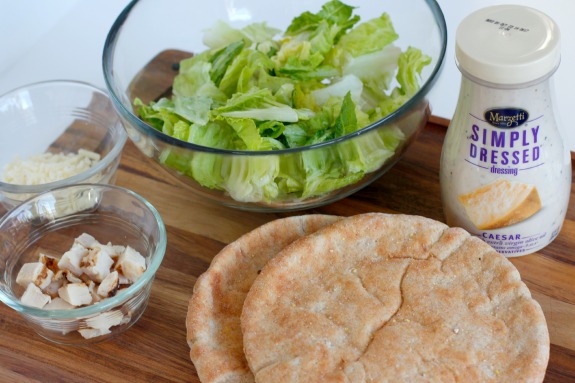 Directions:
In a small bowl, mix up your chicken, lettuce, cheese, and caesar dressing. Set aside.
Cut your pita bread in half and open them up into pockets.
Add your lettuce mix to each half of the pita pockets.
Optional: add a little drizzle of dressing onto the top of each pocket for a little more flavor.
They are ready to serve. Pair these with a slice of garlic toast or a fruit salad and dinner will be a hit for the whole family!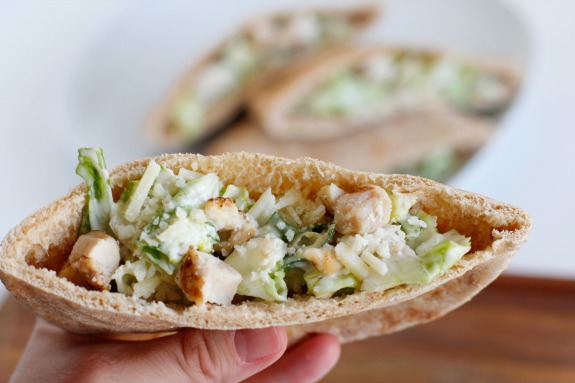 My kids gobbled them up and wanted seconds. Now that's a fabulous family meal!
I have been invited to participate in a Marzetti ambassador program. This post is sponsored by Marzetti and product has been provided by them. I'll be sharing my ideas for family friendly recipes using their products all year long. Be sure to follow Marzetti on Facebook and Pinterest for more information. Find more recipe ideas and meal planning at Marzetti Kitchens!