Have you seen the new reusable squeeze pouches from Little Green Pouch? Did I mention they are reusable?!! I'm in LOVE and thrilled to be partnering with them on a yummy original recipe made just for these squeezable pouches – perfect for a quick snack.
Really, I've been asking myself for a while now how something like this hasn't hit the stores and I'm so happy they are here! We are big fans of squeeze pouches, but I cringe every time I have to toss one in the trash. So these reusable, dishwasher-safe pouches are the best. Plus they are BPA, PVC, and Phthalate free!
The one thing you will need to do with these reusable pouches is the prep. If you can make a big batch of mashed fruit, yogurt, or pudding, you can fill up a bunch of these and have them ready to go in the fridge or freezer. Oh ya, did I mention you can freeze these too?! Pull one out of the freezer and stick it in your child's lunch bag, it will be all thawed out and ready for lunchtime.
They are the perfect size for on-the-go, my kids love them. They come in 2 sizes Little Green Pouch and "Really" Little Green Pouch! And actually, I've been using them more often than my kids, they are perfect for a pre or post workout snack. My recipe for Chocolate, Almond and Banana Pudding is great for a workout pick me up or a child needing some energy before or after soccer practice.
Chocolate, Almond and Banana Pudding
Here's what you need for making a perfect pudding to fill your reusable pouch!
Recipe for Chocolate, Almond, and Banana Pudding:
(yields 2 large pouches or 3 small pouches)
2 bananas
2 Tablespoons almond butter (you can replace this with any nut butter of choice)
2 teaspoons cocoa powder
2-3 Tablespoons of water or milk – depending on how thin or thick you like your pudding
Method:
Add all ingredients to a blender or food processor and blend until smooth. (I love my Blendtec, it has a new Twister Jar and it's perfect for smaller batches)
Fill up your pouches with your pudding. You can simply pour it in the pouch or use a funnel or spoon. Make sure you add only to the "fill" line on the pouch. If you go over, it will spill out as you zip it up.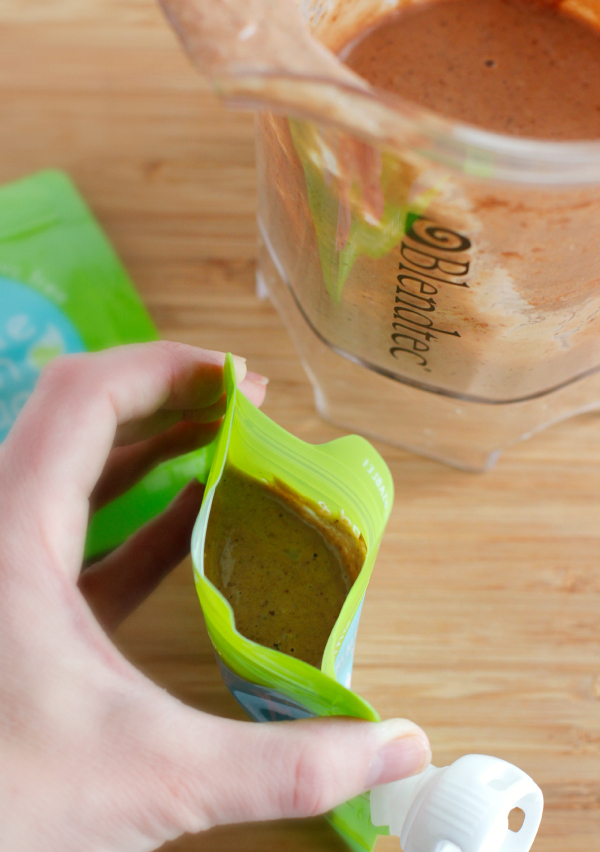 Pop them in the fridge or freezer until you're ready to use! Then scrub them out or place them in the dishwasher for an easy clean up. That simple – yay!
If you're as much in love with these as I am, I'm excited to offer you a discount code to buy some for you and your kiddos! Head over to the Little Green Pouch shop and use the code MAT20 for 20% off your order, yippee!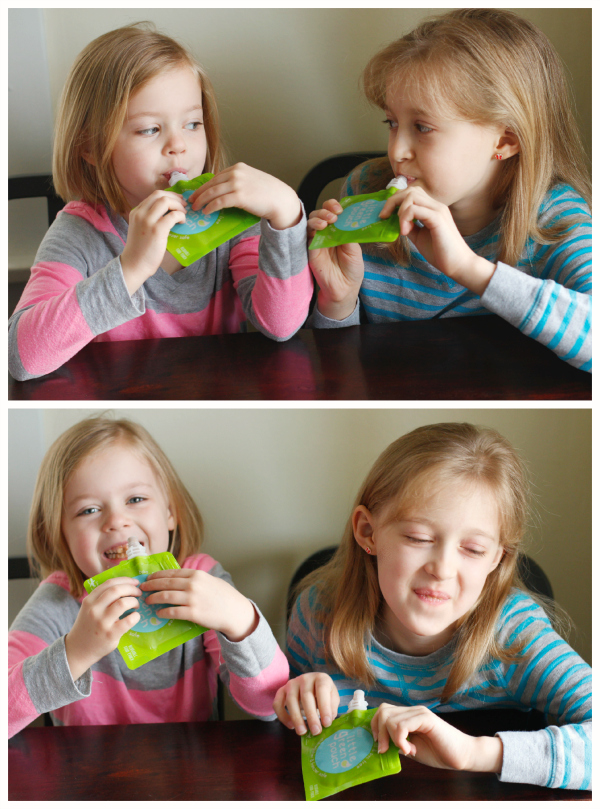 P.S. I love making my kids laugh when they are eating, ha!
Here are a few more recipes and uses for these reusable pouches: 
Be sure to follow them on facebook, twitter, and pinterest for more info and great ideas.
*Thanks to Little Green Pouch for sponsoring this post. This recipe and all opinions are my own – I'm a BIG fan :)
Want to know how to get 50-70% off your fancy blender? Check out Blendfresh! When you sign up you get big discounts on Blendtec appliances and these really yummy fresh dried fruits and vegetables to use in your smoothies and baking!