WEEK OF TREATS – DAY 4
Hot Chocolate is the drink of choice at our house this season. We drink it plain, with marshmallows, with chocolate shavings, or topped with Peppermint Whipped Cream Magic. Seeing as I love chocolate and mint together (almost as much as I love chocolate and peanut butter together), I decided to make some of these Chocolate Dipped Candy Canes. They're fun to dip and give your hot chocolate an extra chocolatey pepperminty boost… Mmmmmmm!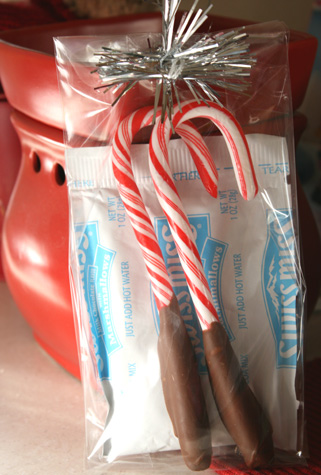 Supplies for Dipped Candy Canes:
candy canes
chocolate
Hot Chocolate Drink Mix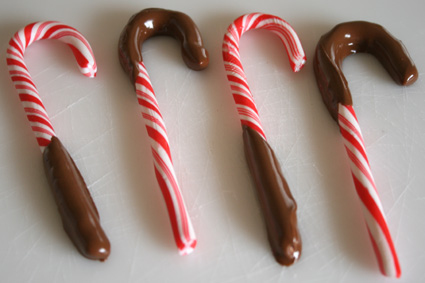 Melt some of your favorite chocolate. I used milk chocolate chips and melted them in the microwave for 1 minute at a time. Then dip the candy canes into the chocolate. I dipped them on both sides because I didn't know which way people may like it, but I like the tops dipped and then use the stick to stir. Lay them on wax paper to cool. Now dip them into your Hot Chocolate Drink and enjoy!
Want more ideas? Here are 35+ Creative Ways to Use Candy Canes!