I'm making these Chocolate Drop Cookies for a holiday cookie swap hosted by my friend Jeri. I needed to make 6 dozen cookies to share, so I thought these tasty chocolate cookies would be perfect. I've never made them before, but they're a treat I've been enjoying since I was little. The only trouble is that these little devils are just tiny enough that you don't realize how many you just ate.
Recipe for Chocolate Drop Cookies:
2 squares Unsweetened Chocolate
1/2 cup shortening
1 cup brown sugar
3/4 cup milk
1 egg
2 cups flour, sifted
1/2 tsp. salt
1/2 tsp. baking soda
First, melt your chocolate. I cut it up a little first, then heated it up in the microwave for 1 minute at a time. (This is "unsweetened" chocolate, remember. My daughter and I thought we'd taste it, I never have before.  I knew it wasn't going to be good, but it tasted like paper. We had to spit it out and drink a big glass of milk, ack. No wonder you have to add so much sugar/milk to recipes that use this chocolate. Have you ever tasted this? I was not expecting it to be that bad!)
You also need to melt your shortening. Then add your chocolate to that. Now cream your brown sugar, milk, and egg, and add in your chocolate/shortening mix. Now slowly add your flour, salt, soda.
These cookies are best smaller, as they are cake-like and you can't eat too many. So instead of using my cookie scoop, I did the ol' spoon with spoon scoop. They don't get quite as uniform this way, but it gives them a little charm to be a little wonky.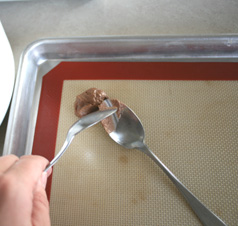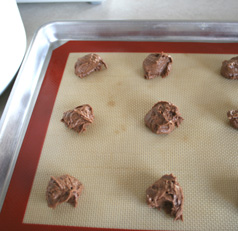 Bake them at 375* for 7-9 minutes. Once cooled, add a little white frosting to the tops. My Mom also suggested I add some red and green sprinkles to each cookie, making them a little more festive. Now they're perfect for the holiday cookie swap.